Chainsaws are a versatile tool that belongs in any homeowner's or outdoorsman's toolbox. From felling trees to pruning overgrown branches, a chainsaw can easily make quick work of all your tree-cutting projects. However, there are many different types of chainsaws on the market today. There are gas-powered, corded-electric, and battery-powered chainsaws with different blade lengths – you name it. The different variety of options can make it difficult to figure out which one is suitable for you and your work.
Plus, not all chainsaws are made equal. The best saws should be able to handle all your projects without a hitch and require little maintenance. However, finding this saw can be a lot harder said than done. It can take hours to sort through all the chainsaw reviews and features to select the one that is right for you.
Luckily, we've done all the hard work for you. We reviewed five of the best-rated chainsaws on the market and carefully detailed each brand, allowing you to choose the right one for your projects. We also included an in-depth buying guide, so you have access to everything you need to know before you make your purchase.
Comparison of our Top 5 Picks
5 Best Chainsaws – Reviews 2023
1. Husqvarna 460 24-Inch Chainsaw – Top Pick
Power Type: Gas
Guide Bar: 24 Inch
Weight: 26 lbs
Husqvarna is a popular brand in the chainsaw market. This chainsaw cutting kit has everything you need to get started right away. It includes the powerful Husqvarna 460 Rancher chainsaw as well as two replacement chains. For the low price, this package is a steal.
This 60cc saw has no problem felling even larger trees and cuts quite quickly, despite the 24-inch blade. We had no problem getting this blade through even the hardest woods. On top of the high power, we also found that this saw was easy to handle and decently lightweight. It isn't the lightest chainsaw out there, to be sure, but for the power, we were very surprised that it only weighed 12.8 pounds. We were able to use it for long periods without getting fatigued thanks to the high-quality handling and lighter weight.
This chainsaw also has a number of features that we found very helpful. In particular, we loved the inclusion of the "Smart Start" technology. Everyone knows that starting a saw can sometimes be a pain. With the added technology, however, this one started up easily every time. It also includes a variety of safety features, such as shutting off automatically if you accidentally drop it. These added features made us feel a lot safer using it and can help prevent unfortunate accidents.
Pros
Made of high-quality materials
Powerful & Durable
Great safety features
Combined choke/stop control
2. Makita XCU03PT1 Battery Chainsaw Kit – The Runner-Up
Power Type: Battery
Guide Bar: 14 Inch
Weight: 22 lbs
For a well-made electric chain saw that can handle most of your projects, the Makita XCU03PT1 is a great option. Unlike our top pick, this one runs off of two 18 volt lithium batteries. This means that it isn't quite as powerful as some gas-powered chainsaws, but it is very low maintenance as compared to gas-powered. Because it uses two batteries, it is a lot more powerful than some other battery-powered saws. Of course, you will have to buy and charge two separate batteries, which can be somewhat frustrating. After all, batteries are not cheap. You won't have to spend money on fuel though, which can help save you money in the long run.
The motor on this saw is no joke. The brushless, direct drive system produces plenty of power, despite it running off of batteries. We did not have difficulty getting this saw to cut through larger branches and trees. Still, this saw is not industrial grade. For the average homeowner, it has plenty of power, but if you're a professional or planning on cutting a lot of trees, you gotta choose our no. #1 pick.
We liked that this saw came with many of the extra features you would expect in an upper-end saw. It has a built-in LED, though we found this feature only somewhat useful in our tests. The saw automatically shuts off with delayed operation, which can help you save battery life. This is a great saw, but it was knocked down to second place in our list because of the lower power and not as useful features.
Pros
Good battery life
Cordless
Quiet
Can visually check the oil level
Cons
Annoying anti-kickback
Chain tensioner is too small
3. WORX WG304.1 Chainsaw
Power Type: Corded Electric
Guide Bar: 18 Inch
Weight: 11 lbs
The WORX WG304.1 is a corded electric chainsaw that gives you excellent value for money. If you want to do simple jobs & are not planning on felling lots of trees or regularly pruning, this is the best option to choose. This saw is far cheaper than its competitors, but it still works quite well, especially for the price range.
With an 18″ inch bar this chainsaw will cut with ease and fast. We didn't need to sharpen the chainsaw till 3/4 of the job. Although this is a good, powerful chainsaw, this is not a commercial one. This is the best option for home use. The best feature of this saw is the automatic chain tightener system which is brilliant and works super well.
Our favorite feature about this chainsaw is its lightweight design. Out of all the chainsaws we tested, this one was one of the lightest. We had no problem handling and using this saw for extended periods of time. The handle is also very ergonomically designed, so this saw was comfortable to use as well. It also has a chain brake feature, which made us feel a lot more comfortable when using it. This feature can help prevent accidents while the saw is in use.
We didn't like how the cheap plastic drive gears strip out. Also, the worst thing about this saw is the company doesn't provide replacement parts. We also think that length of the power cord is very less, you gotta use the extension cord. This is a great saw for the money and it does everything it should.
Pros
Auto-tensioning chain system (that actually works)
Tool-less chain removal/cleaning
Self-lubing
Good safety features
Cons
Not much powerful
Doesn't come with a case
4. BLACK+DECKER LCS1240B Chain Saw
Power Type: Battery
Guide Bar: 12 Inch
Weight: 7 lbs
Black+Decker is a popular tool company, which is why we chose to review their chainsaw. Despite the big-name, however, we were quite disappointed in this chainsaw's performance. It is a decent little saw, there is no doubt about that. But, it was not our favorite by any stretch of the imagination.
This is a battery-powered electric chainsaw. Like most battery-powered saws, it does not cut quite as fast as a gas chainsaw. However, it still gets the job done – most of the time. It has plenty of power for the average homeowner, but probably not the professional or outdoorsmen. With that said, you will not be able to cut for very long due to the incredibly short battery life. You can buy another battery to use as a backup, but they are quite expensive. If you're on a budget, this probably is not an option.
Overall, this is a good chainsaw. It is quieter than many of the other saw we reviewed, which might make it useful if your neighbors are close. It also cuts quite easily; we didn't have any problem cutting firewood, pruning trees, or felling smaller trees. The bar is only 12-inches long, but we don't necessarily see this as a bad thing. You will not be able to cut extremely thick trees or anything like that. But, the projects many homeowners are doing won't require this. The bar should have no problem cutting your average-sized trees and chopping firewood.
Pros
Lightweight & Adequate power
Cordless
Decent battery life
Relatively inexpensive
Cons
Replacement batteries are expensive
Automatic oiler puts out a lot of oil
5. Poulan Pro 967185102 PP4218A Chain-Saw
Power Type: Gas
Guide Bar: 18 Inch
Weight: 25 lbs
This chainsaw landed at the bottom of our list for a couple of good reasons. Although this saw has 42cc 2-cycle engine with 18″ bar which is enough cut with ease and fast. One of main problem is starting this saw. You can start this in 3rd or 4th pull when cold and 1st pull when warm.
This saw does come with a case, however, which we thought was very useful. It is difficult to find saws that come with cases, especially in this saw's price range. It also cut well once we got it started. It cut through wood like butter.
Overall, this saw just didn't have enough positives going for it. It wasted a lot of our time during testing, and we just can't recommend this to anyone, especially when there are better, cheaper saws available.
Cons
Stalled easily
Carburettor problems
Noisy
Buying Guide
In our reviews, we looked specifically at five different chainsaws. However, there are far more than five chainsaws on the market. To help you better navigate the wide-world of chainsaws, we also put together this complete buyer's guide to everything you might need to know when purchasing one of these saws.
Power Type
Chainsaws are powered by either gas or electricity. Electric chainsaws can be either corded or cordless. This leaves us with three main categories of chainsaws: gas-powered, corded electric, and battery-powered.
No type of chainsaw is necessarily better than the others in all situations. They all of their pros and cons and are typically designed for a type of user in mind. Corded chainsaws are not designed for outdoorsmen, for example.
When choosing a saw, it is important to consider how it is powered. After all, you don't want to purchase a corded saw if you're going to be working away from electricity.
Gas-Powered Chainsaws
Gas-powered chainsaws are the "default" power type. They are the standard and have been around for as long as chainsaws have. They are the most powerful model's thanks to their gas consumption, but they do require the purchase of fuel. Chainsaws typically require that you feed them a special gas mixture. If you aren't familiar with mixing gas yourself, this can be difficult and frustrating. Luckily, pre-mixed fuels are on the market now, but these are often over-priced and might not work in every chainsaw.
Furthermore, these chainsaws are also harder to start up. Much like a lawnmower or other gas-engine, they use a pull-start. Of course, some chainsaws start easier than others. If you read our reviews, you'll remember that we tried nearly 50 times to start one of the saws we tested before it finally kicked on. While this isn't typical of all chainsaws, it is something to keep in mind.
These are one of the more portable types of saws. They don't require being close to an outlet or lugging around a battery and charger. They will also run for however long the gas and chain last. You don't have to worry about the battery dying or cord not being long enough. Even if you aren't planning on using your chainsaw for very long, not having a time restriction looming over your head can be very liberating. No one likes having to stop in the middle of a project to charge your saw's battery. With a gas saw, you don't have to worry about that.
Corded Electric Chainsaws
These chainsaws are designed for your average homeowner in mind. If you don't have to wander very far from home to do your cutting, this saw might be suitable. Of course, because it requires a cord, this type of saw is one of the least portables. They must be plugged in at all times, so trekking out in the woods to get some firewood just isn't possible. Even when working around the house, you're probably going to need an extension cord or two. This can be frustrating and difficult to set up. Having to lug out extension cords every time you want to trim your bushes can be a pain.
However, these models require very little maintenance when compared to other types. You don't have to worry about buying fuel or charging batteries. They also don't run out of power as battery-powered models do. The amount of power they produce in one cutting session also stays level.
Overall, these saws are suitable for homeowners who just need to perform basic upkeep on their trees and bushes. They're designed for repetitive tasks that don't require much moving around.
Battery-Powered Chainsaws
Battery-powered chainsaws are somewhat newer than other models. It was only recently that batteries got powerful enough to power a chainsaw for a reasonable amount of time. But, these chainsaws have gotten popular very quickly as an alternative to corded saws. The introduction of lithium-ion batteries has made it possible for these once forgettable saws to produce quite a bit of power, making them practical for your average homeowner. The run-time has increased substantially over the years and is increasing more and more every day.
However, the truth of the matter is that battery-powered saws still do not have as much oomph as gas-powered ones. They are not anywhere close to being as powerful as their corded counterparts either. When the battery starts to become depleted, their power level can drop off rapidly. While this differs from model to model, having your saw suddenly lose half its power 15 minutes into cutting is not fun or practical.
The biggest problem with cordless chainsaws is the short lifespan of the battery. The average lithium-ion battery can only power a saw for thirty minutes. For most people, this is not going to be enough to get the job done. This leads to lots of stopping and re-starting, which can get tiresome. Theoretically, you can purchase multiple batteries, charge them all up, and then switch them out as they die. However, saw batteries can be quite expensive and don't always charge as fast as advertised. There are often different chargers available, but the fast ones are expensive and out of budget for most people. Plus, you will have to have access to an outlet to charge your batteries, which takes away much of this saw's portability.
Still, depending on the nature of the work you're doing, there is no reason to automatically dismiss this type of chainsaw. They can be useful for those who just need to trim a few trees in their yard and don't plan on using their saw often. You don't have to drag out an extension cord every time you want to use them or worry about mixing gas. They also require less maintenance than traditional, gas-powered saws. These saws also tend to be lighter and quieter.
Guide Bar Length
The length of a chainsaw's guide bar is one of the most important things to consider when selecting a saw. The guide bar determines what jobs a chainsaw is capable of. A chainsaw with a smaller guide bar won't be able to fell larger trees, for example. The larger the guide bar, usually the more powerful the saw. However, this is not always the case.
Chainsaws come in a variety of different lengths – all the way from 6" to 24 inches. In general, most standard saws have a length of at least 8". Chainsaws with 6" guide bars don't really look like chainsaws at all. They are generally designed to cut pieces of wood you are holding or to trim very small bushes. They sometimes feature scissoring action.
8 to 14 inches
For most usual chainsaw-activities, you're going to want a saw with at least an 8" guide bar. These saws are typically very lightweight and easy to move around. Their main purpose is to prune small tree branches and bushes. They can cut very small trees. These small saws are typically the safest. They tend to be designed for use among the general population, and therefore come with plenty of built-in safety features. If you want to cut down bigger trees, you're going to need a saw that is more substantial, however.
A 14" guide bar should be suitable for most larger domestic purposes. These saws are big enough to cut trees, while also not costing a fortune. The average homeowner is likely only going to need a chainsaw with an 8" to 14" guide bar. Consider what size trees and branches you're planning on cutting when selecting the best chainsaw for your purposes.
16 to 20 inches
Chainsaws with chains between 16" to 20" are considered mid-range to heavy-duty chainsaws. They are best for professionals and those who already have plenty of experience with chainsaws. These saws are more powerful, which comes with its pros and cons. On one hand, more power means that these saws can handle bigger projects. However, more power also means they have a stronger kickback, which can be difficult for new users to handle.
Bigger chainsaws are also less useful for projects that require more maneuverability. Their bulkiness makes them more useful for larger projects but difficult to manage if you're just trying to cut some small branches. You can trim branches with larger chainsaws, of course. But, there is no need to invest in a large chainsaw for this sort of job when a smaller one will do.
These 16-20 inch chainsaws typically excel at cutting firewood, like those you'd find in most yards. Depending on the exact saw, some can cut larger trees as well. This is also a good choice for cutting firewood in bulk. Saws this powerful are built to last, so they are a good option when you need to do any sort of bulk work.
20 to 24 inches
These are the truly massive, professional chainsaws. They are designed to cut whatever gets thrown at them, so they tend to have a lot of power. This extra power and longer bar makes them produce the greatest kickback. However, professionals typically know how to handle this, so it isn't a serious problem unless someone inexperienced mistakenly picks up a chainsaw this large.
Typically gas-powered, these saws are also very heavy. They require a certain level of fitness and strength that comes from using chainsaws for hours at a time. They are not designed to be used by the general population and will likely not include many of the extra features found in smaller chainsaws. The makers of this size chainsaw usually assume the users are familiar with chainsaws and design their products accordingly.
The average person usually does not need a chainsaw this large outside of very specific circumstances. If you are experienced with chainsaws and plan on frequently cutting down large trees, this saw might be appropriate.
Safety Features
Chainsaws are a dangerous piece of machinery. They are not to be taken lightly and can do some serious damage if not handled properly. Luckily, there is quite a lot you can do to protect yourself. Wearing safety equipment is a good place to start, as is buying a saw with plenty of safety features.
To prevent unfortunate accidents, a large number of saw manufacturers have begun adding a variety of safety features. These features have varying degrees of effectiveness. Some work quite well, while others are mildly effective at the most. Still, purchasing a chainsaw with valuable safety features can be extremely helpful in preventing accidents, especially if you aren't a very experienced chainsaw user.
No matter your experience level, there is one safety feature any chainsaw you purchase should have – a chain brake. The chain brake does exactly what it sounds like, stop the chain from moving. This is used to prevent and lessen injuries in a variety of circumstances. There are two main ways this chain brake is activated. The first of these is inertia. If the chain begins to move too quickly, the saw will stop it completely. This is extremely helpful in the event of extreme kickback or if you drop the saw onto the ground. The second way this feature is activated is through a button or other conscious effort. This lets you stop the saw completely and easily if you find yourself in a dangerous situation.
Nearly every gas-powered saw has a chain brake. However, this is not the case with electric models. This is especially true for corded models, where you can unplug the saw if you accidentally drop it. Some electric saws do have electric brakes, which are not quite the same as a chain brake but perform the same purpose.
If you're new to using a saw, you should also look for saws with low-kickback bars. These help prevent kickback, which is great if you aren't quite sure how to deal with it. They are a rarer safety feature, however, and aren't available on every model. This feature also isn't 100% effective. It doesn't prevent kickback completely.
Safety triggers are also very important for chainsaws. They work similarly to the safeties on firearms. In order to start up the saw, the safety trigger must be engaged. This provides an extra layer of protection that prevents the saw from starting up accidentally. This is especially important if you're in a home with children or other people who might accidentally start the saw.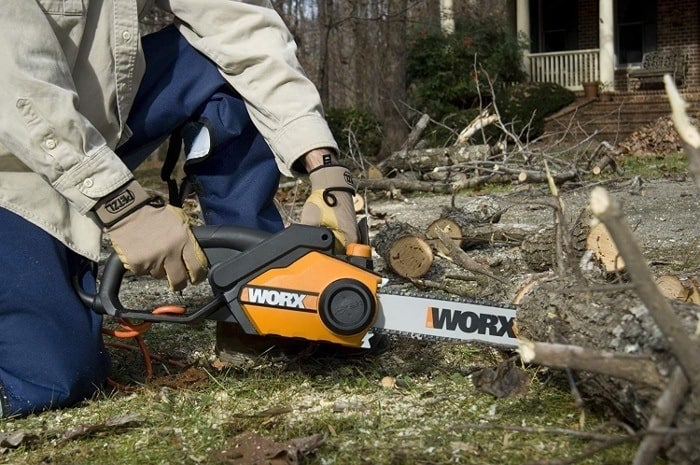 Other Features
Chainsaws also commonly come with a few other features that aren't necessary for the least but can be helpful in certain situations. Often, these features are just useful add-ons that don't factor in much to the buying decision. Chain bar length and power type are much more important than these extra features, but you should still keep an eye out for them when you're shopping.
The most common and functional of these features is the side-mounted tension adjuster. This tension adjuster is used to change the tension of the blade, helping to ensure that it is set properly. A blade that is too loose will lose its effectiveness and not cut properly. In a severe circumstance, it might even come off completely.
Traditionally, you would need separate tools to adjust your blade tension. This usually meant carrying around these tools while you used the chainsaw. With this modern feature, however, you don't need tools at all. Instead, the side-mounted tension adjuster lets you adjust the tension with the simple turn of a knob. This feature is especially useful since blades tend to loosen up as the heat up. The correct tension at the beginning of a cutting session is not necessarily the correct tension in the middle of a cutting session. With this feature, you can adjust as you go without having to lug tools around with you or make extra trips to the house.
High-end, expensive saws might even have an auto-adjuster, which maintains blade tension independently. These saws are extra efficient due to having a constant, optimal blade tension. This feature is particularly helpful for beginners who might not know how to properly adjust the tension.
Automatic oilers are also available, though they have mixed reviews. This feature prevents you from having to regularly oil your blade by hand. A well-oiled blade helps everything run smoothly. However, the exact amount of oil you need is often hard to figure out. Automatic oilers are designed to take away this problem.
Frequently Asked Questions
Are electric chainsaws as good as gas chainsaws?
It depends on how you look at it. On one hand, electric chainsaws are not currently as powerful as gas ones. Current electric motors just can't produce the raw power that a gas one can. You also have to deal with either a cord or batteries, which can become frustrating over time. 
However, on the other hand, electric chainsaws do have some features that might push them ahead of gas chainsaws. They don't require you to mix gas, are often quieter and need less maintenance. It really depends on what you're looking for and how you're going to be using the saw. 
A cord might be fine for a homeowner who only needs to trim some bushes outside. But, using a chainsaw is nearly impossible if you're planning on cutting trees out in the woods or working away from an outlet. When choosing a chainsaw, take into account what you're going to be using it for.
How much do chainsaws cost?
The cost of a chainsaw varies widely depending on what features and size you want. Electric chainsaws are usually cheaper and can be bought for as little as $60. Gas saws are usually closer to $200. Smaller saws are also usually cheaper.
What fuel do chainsaws use?
Chainsaws require a mixture of gas and oil. The exact mixture varies from saw to saw and can be quite difficult to get right until you have some experience. This is one of the reasons electric saws are becoming so popular.
Conclusion
Over the years, a huge variety of chainsaws have been manufactured. Hopefully, our reviews coupled with our buyer's guide have helped you sort through the unending see of saws. After taking everything into account, we've settled on the Husqvarna 460 Rancher as the best chainsaw available for professionals. It is powerful, starts easy, and is surprisingly easy to handle.
For a value for money option, the WORX WG304.1 would be our next choice. Despite its low price, it still does the work easily. It has an auto-tensioning system and is considerably lightweight. This saw is a great choice for the average homeowner or beginner.
RELATED: