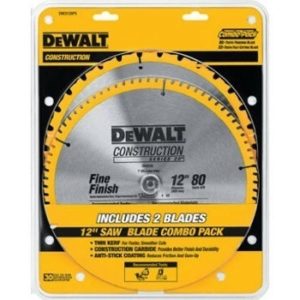 A circular saw isn't worth much without a blade. You could have the best circular saw on the market, but if you pair it with a sub-par blade, it isn't going to perform very well. A saw is only as good as the blade it has. It is very important that you take just as much time researching circular saw blades as you did when you picked out the saw itself.
There are many different blades on the market that come in all shapes and sizes. To help you get the most out of your circular saw, we reviewed many different saw blades. We put each saw blade through a variety of tests and chose our favorite.
Comparison of our Favorite Blades
5 Best Circular Saw Blades – Reviews
#1 IRWIN 7-1/4″ Circular Saw Blades – Best Overall
Out of all the blades we tested, this is the best circular saw blades you can buy. We loved that it features anti-vibration vents to cut down on unnecessary vibrations and make cleaner cuts. We could really tell a difference in accuracy thanks to these vents.
This blade is also crafted with carbide 68 laser-cut teeth, ensuring maximum durability and longevity. This blade is designed to last for a while and should have no difficulty cutting through most types of metal like aluminum. However, it is designed specifically to cut thin metals and will perform best if used for its intended purpose. This saw blade is the best solution for cutting metal roofing sheets. It doesn't damage the paint from the metal as others do. You can even use this for rip cut and miter cut vinyl fencing. This blade cuts heavy gauge rolled steel very well.
This blade also comes with anti-kickback teeth shoulders. We especially liked this feature because it improved safety. When working with sharp blades, safety is extremely important. We appreciated that IRWIN took the time and effort to add this extra safety feature.
Pros
Does not damage the metal
#2 DEWALT DW3128P5 Circular Saw Blade Combo Pack – Runner Up
Dewalt also makes great saws and so their blades. This blade is machine-balanced to help reduce vibration and prevent wobbling. We could tell a difference when using this blade compared to those of low-quality. The balance really does help prevent inaccuracy. It comes with an 80 and 32 tooth pair of saw blades. These are nice blades for contractors, DIYers.
It also features an exclusive wedge design. At first, we were unsure whether or not this design would actually make a difference in our cuts. However, as we used it, we did notice that the unique design allowed for more metal between each tip, which made the blade more durable. While this blade is somewhat more expensive, it is designed to last for a long time and will likely save you money in the long run.
If you are a pro woodworker, you must choose our no. #1 pick, this saw blade is not as good used by shop woodworkers. The reason for that is its teeth don't have much carbide so you can't sharpen this many times.
One thing we didn't like about this Dewalt blade is that it is not laser cut. It relies on the stamping technique to cut the things. Also there isn't much coating done on the blade which is not good.
Cons
Do not contain much carbide
#3 SKIL 79510C 7-Inch Turbo – Best Circular Saw Blade for the Money
Truthfully, SKIL is our go-to manufacturer for quality, budget saws, and blades. This saw blade is the one worth your money. It is far cheaper than much of the competition but performs on par with more expensive blades.
This blade with a diameter of 7-inches is specifically made for concrete and tile, so you likely won't be cutting metal with it. It did its job very well. The cuts that we made were accurate and easy.
It cut faster than we originally expected, even against tougher materials. It chewed concrete like butter. However, it still could be faster.
From our experience, this blade seemed quite durable. It isn't flimsy and did not wear down more than expected from our tests. It will likely last you for quite a while, even with regular use.
Pros
Can cut thick material like concrete smoothly
#4 Freud D1050X Diablo Saw Circular-Saw Blade
Freud D1050X Diablo isn't the best circular saw blade but can be a good option depending on your needs.
After using this blade, there was very little sanding required. The cuts were also very accurate and fast. It cut through all of our wood like butter and did not require much effort on our part at all.
With that said, this blade is sold as a combination blade, which means it is supposed to be a Jack-of-all-trades.
However, when we used it on other materials, we found that it didn't do quite as well as some of the other blades we tested. For wood, this blade is a great option. However, if you're cutting another material, you're better off choosing something else.
Pros
Great for all kinds of wood
Crosscuts without a problem
Cons
Can't cut anything except wood
Builds up the pitch quickly
#5 Rockwell RW9282 Circular Saw Blades
While Rockwell RW9282 is at the bottom of our list, it isn't a terrible option in the least. It can cut through a variety of materials decently well. We tested it on both wood and metal and it cut both without much of a problem. The cuts it produces are fine and accurate.
However, this blade is definitely a Jack of all trades, master-of-none. While it can cut through both wood and metal, it was only okay with both. It is very fine-toothed, so you have to cut very slowly no matter what material you're working with. It also isn't durable. After only about five cuts, we could tell our saw was beginning to have difficulties.
This blade is okay for one-and-done projects, but it is definitely not a good choice for professionals or avid home DIYers. We would not expect this blade to last longer than one project, and even then, you should likely have a backup blade on standby.
Pros
Cuts many different materials
Buying Guide
Size of Blade
This is by far the most important feature to consider when purchasing a circular saw blade. The size of the blade you purchase should match up with the saw you're going to use it on. Otherwise, it isn't going to fit. A large blade cannot fit on a small saw and vice versa. Even the best blade in the world isn't going to do you much good if you can't use it  
Most saws and blades have their dimensions readily available. If your saw uses 7 ½ inch blades, that's the size blade you should purchase.
How Reliable the Blade is?
A saw blade should work when you need it to. Preferably, the best circular saw blade will hold its edge for a decent amount of time and be able to make plenty of cuts before it needs to be replaced. Blades that wear down fast are only going to cause you frustration and cost more money in the long run. Choose a durable, more expensive blade up front instead of buying lots of cheaper blades later.
Type of Work
Most blades are designed for a particular purpose. You have blades that are designed to cut wood, those that are designed to cut metal, and even some that are meant to cut concrete. Even blades that are technically meant to cut anything normally have something they're best at. You should purchase a blade that matches the particular work you are planning on doing. If you need to cut metal, purchase a blade that is designed to do so.
Different types of Circular saw blades
On top of being designed to cut different materials, blades also have unique designs that affect their performance. Blades that are continuous and without teeth are designed to cut slates, concrete, and tile. Turbo rimmed blades are also used to cut concrete but really excel at bricks. Segmented blades are used to cut other sorts of materials and are quite aggressive. These blades might be diamond tipped or made of carbide. Abrasive blades are increasing in popularity and are engineered to cut things such as aluminum and silicon. These blades are one of the rarest types due to their specialized nature. How often does the average homeowner need to cut silicon, after all?
The number of teeth a blade has also mattered. Blades with more teeth will cut faster but are also more prone to breaking. The bigger the teeth, the less the chance of it breaking off, but the longer the blade will take to cut. We've carefully picked and reviewed the above best circular saw blades for you.
Read more about Types of Circular Saw Blades
Not all saws are created the same. Depending on how your saw was designed, it will likely work best with certain blades. Preferably, you saw and the blade should work together in harmony. This will provide you with the best cuts and make both the blade and saw last longer.
The arbor of any blade you buy should match the shaft of your saw. The arbor is the hole in the middle of a saw blade where the saw blade attaches to the saw. The shaft is the part of the saw the blade attaches to. These two components should line up well, or you might cause damage to your saw or blade.
Furthermore, you should also consider what your saw is designed to cut. While you might be able to get away with putting a metal-cutting blade on a wood-cutting saw. This is not going to produce the best cuts or make the blade last very long. Match the purpose of the saw to the blade you choose to go on it.
Other saw blades buying guides:
Tablesaw blades
Scroll-saw blades
Jig-saw blades
Conclusion
A saw is only a good as the blade you put on it. Surprisingly, there is quite a lot that goes into choosing a good saw blade. From the material the blade is designed to cut to the type of saw you have, there are quite a few factors you must pay attention to. We hope this guide pointed you towards the best blade for your situation.
In our testing, we discovered that the best blade overall is the IRWIN 7-1/4 Metal-Cutting Circular Saw Blade. This blade made quick cuts and seemed quite durable. We particularly liked its anti-vibration vents, which considerably reduced the vibration it produced. As a budget option, we also liked the SKIL 79510C.