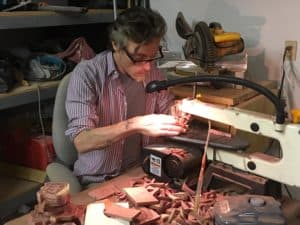 We've got the best scroll saw available today in the market which can be used to cut metal, wood or other materials? We have only chosen the scroll saws from top brands like Dewalt, Wen which helps you to cut any sort of intricate joint or design, you should consider purchasing a scroll saw from these brands only. It is extremely useful when small, detailed designs are necessary. The saw blade on these tools is extremely tiny, which allows you to cut small details efficiently.
Finding a perfect scroll saw is not an easy task as there are so many different models available from numerous brands. Not all of them are made the same, however. Some scroll saws allow you to cut absolutely stunning details and joints, while others hardly seem to want to cut anything at all. We've read 100's of scroll saw reviews, tried some models which turned out to be worse and some are amazing which we have listed below.
Top 5 Scroll Saws Comparison
5 Best Scroll Saw Reviews – 2023
---
1. DEWALT DW788 Scroll Saw – Best Overall
Dewalt makes good tools, and their scroll saw is no different. Like most Dewalt tools, this saw is well designed and built to stand up to years of use due to the cast-iron table. Dewalt DW788 is the best Scroll Saw for beginners, home DIYers, and professionals. Even a beginner handymen can make clear cuts and intricate pieces of any project.
Despite this scroll saw looks like heavy-duty, it is lightweight and compact. It only weighs 56 pounds, which is far lighter than most saws. It also comes with variable speed controls ranging from 400 to 1750 strokes per minute by which you can manage the cutting speed of the project.
For bevel cuts, the table tilts 0 to 45 degrees in each direction. To make quick adjustments, power switch, speed control, and blade-tensioning lever are given on the upper arm. This saw has easy blade changes mechanism via tool-free blade clamp.
The most important feature double parallel-linked arm reduces the vibrations and makes it very easy to cut intricate designs with more precise cuts. All saws are going to vibrate, but that doesn't necessarily mean the vibration has to interfere with your work. This feature keeps the blade perpendicular while cutting, which helps in reducing over or undercutting.
The dust port really helped us keep our workplace clean while we were working. Without all the dust getting in the way, it was easier to see what we were cutting, especially on the small details.
With the throat depth of 20 inches, this variable-speed scroll saw comes with a DEWALT three-year limited warranty package.
Pros
Double Parallel linking arm design
Flexible dust port
Variable speed control
Durable Cast Iron Table
Tool-free blade changes in seconds
---
2. Shop Fox W1713 16-Inch Variable Speed Scroll Saw – The Runner-up
We were really impressed by the Shop Fox, though it didn't cut well quite as good as the Dewalt DW788, it has some important features which make it a good scroll saw. Even though it is advertised to use for both pinless or pinned blades but we don't recommend it to use for pinless blades.
A scroll saw is meant to make intricate cuts and if you're doing your work in a basement or garage without adequate lighting, you won't be able to do the work properly. The gooseneck work light feature can help you see your work and prevent you from making any mistake. A fixed dust blower prevents any kind of dust from building up on your work surface. You can connect a 1-1⁄4 inch dust extraction port to shop vacuum to collect all the debris.
One of the best features on the Shop Fox Scroll Saw is the variable tilt table with easy blade changes. To cut from a wide variety of angles, it tilts up to 45 degrees while being easy to use and surprisingly accurate. Also, it has a variable speed feature which has a range from 550-1650 SPM. This will work as a great safety feature while starting and stopping at one setting.
It has a durable cast iron base instead of aluminum and that too at a reasonable price. It weighs only 40 pounds lighter than our first pick which makes it compact and easy to move from one place to another. It also comes with a 2-year warranty
Unfortunately, the W1713 does not come with a parallel link arm to reduce vibration, which means that we felt the vibration a lot more with this saw.
Pros
Gooseneck work light
Variable Tile Table up to 45 degrees
Cast Iron base
Variable speed control to ensure clean accurate cuts
Cons
No Parallel Link Arm
Only 2-years warranty
---
3. WEN 3920 16-Inch Variable Speed Scroll Saw – Best for the Money
If you're a handyman looking for a Budget scroll saw, don't buy anything else other than WEN 3920. It offers many features that expensive saws do but costs only half as much. This is the only scroll saw which provides the dual-direction cutting capability to take on the most intricate and artful cuts. This feature matters when you want to speed up the project.
One thing to know is that pinless blade changes aren't as easy on this scroll saw as some other models.
We particularly loved how large (16×11 inches) the cutting platform is to take on some larger projects.
The hold-down clamp is particularly useful while making small cuts. This way you can lock down the object to prevent it from moving. This feature was particularly useful when we were working with longer and flimsier projects. It helps to get accurate cuts every time. It can cut through the wood up to 2 inches thick and 16-inch throat depth in standard position.
WEN 3920 comes with a flexible light, adjustable air pump and notable 2-years warranty. The work light helps you see the project deeply while dust blower helps to clean off the dust and make sure you see every cut. With two-blade cutting positions, this scroll saw also allowed us to cut from the standard back-and-front position or a pinned position.
You can make bevel cuts from 0 to 45 degrees to the left and right direction. This scroll saw also comes with variable speed feature which ranges from 400 to 1600 strokes per minute.
Pros
Two different blade positions
Variable Speed for intricate cuts
Large cutting platform
Unique blade holder accepts both pinned and pinless blades
No tool blade changes
Cons
Not very durable
Difficult to switch blades
---
4. Delta 40-694 Scroll Saw
This Delta Power Tools 40-694 is an electric variable speed scroll saw ranges from 400 to 1750 SPM. This feature makes this saw very versatile and you can cut at a different speed in the above range. It made it very easy for us to perform multiple projects and cut different types of wood.
The Dual parallel-linking arm feature cuts down a lot of vibrations on Delta 40-694 and provide more accurate cuts. For bevel cuts, you can tilt the table at 45 degrees in each direction.
At 60 pounds, this scroll saw is bit heavier. You can tilt the oversized (16×24 inches) cutting table to left or right to work on the larger projects. It can cut through 2-1/8 inch Walnut like butter and comes with 5 years warranty.
While you can lift and lock the upper arm for blade changes or adjusting position, making this scroll saw even easier to use. You can hold up to two blades on the onboard storage unit. It helps the blades to retain their sharpness for a long time. The adjustable hose is also a nice feature and helped us keep our shop area clean.
This delta power tools scroll saw has an upgraded option with extra features like adjustable light and adjustable blower, making it more expensive.
Pros
Dual Parallel link arms
Easy blade changes with Tool-free blade clamp
Electronic variable speeds
Table tilts 45 degrees each way
Cons
No Stand in Standard option
Weight
---
5. PORTER-CABLE PCB375SS Scroll Saw
The Porter-Cable PCB 375SS lands at bottom of our list. It is a decent choice but not the best option for woodworkers. If you are looking for a saw which has all the important features and makes precise cuts, we suggest you take a look at our top 3 picks.
It comes with an aluminum frame which is not good to use as a stable cutting platform. This makes the saw less durable overall and also makes it feel cheaper than other models.
With a large and dual tilting table, you can make 15-degree bevel cuts to the right and 45 degrees to the left. This allows you to make a huge number of accurate cuts very easily. Also a control knob is given in the front by which you can control the cutting speeds.
There are some other features like, you can easily and quickly change and regulate pin or plain blades and adjust blade tension with the tool-less blade holder.
It also comes with adjustable LED light to work in basement and built-in dust blower which clears the dust around the blade while cutting.
Even with all the basic features present in this scroll saw, it doesn't have much power and precise cutting ability, hence it landed last in our list. The die-cast aluminum frame really makes it difficult to take advantage of the positive features of this machine. If you're a serious woodworker, we recommend choosing a product that is higher on the list.
Pros
Large cutting & Dual-tilting table
Cons
Aluminum frame
No Power & Stability
Expensive against Features
---
Scroll Saws Buying Guide
Not all scroll saws are made the same. There are quite a few things you should keep in mind when purchasing one. The best scroll saw for you is going to depend on your situation and needs.
---
Table Size
Table size is one of the most important considerations when you're selecting a scroll saw. Larger cutting tables are going to be able to handle larger projects, but they can also take up quite a bit of room. If you regularly work on bigger projects, a big work table is a must. However, if you don't, you could probably get away with a smaller one.
Stability
The stability of the cutting table is also a big factor. You don't want the work table vibrating heavily or knocking over while you're working.
Scroll Saw Arm
The arm of the scroll saw can also differ immensely from model to model. Preferably, you want a saw arm that is going to cut down on vibrations and produce accurate cuts. A double parallel-link arm is usually going to be the best choice. This arm design can greatly cut back on vibrations and is better at holding your projects while you're cutting.
Adjustability
The adjustability of the arm can also be important, but less so than the overall design. This feature determines the thickness of wood you can cut. It is usually best to figure out what sorts of projects you're going to be doing with the scroll saw and then choose one that can handle it.
Check the Throat Size
This is one of the most important features you have to look for in the best scroll saws. The throat size also has an effect on what size projects you can do. It is the distance between the front of the blade and the back. Generally, you can cut double what your saw offers. If you're working on longer projects, it needs to be longer.
Pin-End & Flat (Plain) Blades
Most of the best scroll saws come with blades. Sometimes these blades are awesome, and other times they're very low quality. There are also many different types of blades for scroll saws that are designed to cut different types of wood. If the saw comes with a sub-par blade or doesn't have the sort of blade you need, you will have to spend extra money to purchase a suitable blade.
Variable Speed Control
You must choose a scroll saw with a variety of variable speed options. Being able to slow you saw down could mean the difference between your best project yet and sloppy cuts.
Power
You should also look at how powerful a saw is. A saw without much power isn't going to do you very well. Of course, more power almost always comes with a higher price tag, so don't feel the need to buy more power than you could absolutely ever need.
LED Work Lights
There are also a couple of other minor add-on features you should think about. LED lights are common in some models. Some lights can be moved around while others are stationary. This scroll saw feature can be useful if you work in a dimly lit area.
Air Hose
Many models also include an air hose that helps keep your work area clean from dust as you work. We find this minimally helpful, but if dust tends to get in your way, you might find it worth investing in a saw with a hose.
Frequently Asked Questions
---
What type of wood is best for a scroll saw?
This really depends on the specific project you're doing! A scroll saw should be able to handle most woods you throw at it. We recommend choosing a wood that best fits what project you're doing, instead of trying to choose the best wood for your scroll saw.
With that said, the woods that give the least resistance with a scroll saw are softwoods like white pine or poplar. These woods might be the best option for beginner because they are very easy to cut through.
Which way do teeth go on a scroll saw?
The teeth should go to the front of the saw and point down. A blade that is turned in the wrong direction will not cut wood. Instead, it will just pick the wood off the table and slam it back down. You should always check that the blade is going in the correct direction, especially when you are just starting out.
What material can a scroll saw cut?
Scroll saws are typically only able to cut through softer materials, such as wood, rubber, bone, and leather. The softer material, the less resistance the saw will meat while cutting, which makes the material easier to work with. We typically recommend the softest material possible for beginners, especially if you're just doing a couple of practice problems to get started.
With that said, there are some scroll saw blades that are designed to cut through tougher materials, such as aluminum. Still, these materials are very difficult to work with due to their toughness and are not recommended for beginners.
How thick can a scroll saw cut?
A scroll saw can typically cut through wood up to ¾ of an inch thick. Because these saws are typically only designed for intricate, detailed work, they are not capable of performing huge cutting jobs. These saws should only be used when cutting very small details.
Are scroll saws dangerous?
Just like with any tool, these machines can be dangerous if used improperly. Contact with the blade of a saw can cause harm to your finger and hands. You should always use extreme care when using any sort of sharp machinery. Contact can also happen with the blade under the table, so you should be careful in this area as well.
To keep yourself safe, it is important to wear proper gear when using a scroll saw, including eye protection, especially if you're working with metal. You should also keep your work area clean and regularly take breaks to avoid fatigue, which can increase the risk of injury. You should always follow the manufacturer's directions and safety information.
Conclusion
While not everyone needs a scroll saw, they can be extremely useful for woodworkers and those who need to create intricate details. These accurate scroll saws can mean the difference between a near-perfect project and one that is sloppy.
For the best scroll saw, we recommend the Dewalt DW788. This saw is accurate, produces few vibrations, and has one of the most well-designed arms out there. Plus, it isn't nearly as loud as some other options.
RELATED: