Most of the homeowners who are looking to keep their yard as clean as possible, always go for a small and lightweight chainsaw. A chainsaw is a great tool to manage all your pruning jobs, reduce the big-sized logs to manageable sizes, and be good for cutting firewood.
These small chainsaws have typically under 14 inches long cutting bar length mostly used for cutting smaller stuff like pruning trees and shrubs. Also pretty good in cutting anything 10 inches in diameter. You can keep this chainsaw for your everyday needs.
We have mentioned the 10 best small chainsaws which are lightweight & powerful. You will find the cordless model which is a light-duty occasional use chainsaw, Corded-electric, and gas chainsaw with good power too. Most of these chainsaws are fairly lightweight, easy to start, and costs less than $200.
9 Best Small Chainsaws – Reviews 2023
---
1. Makita XCU02PT – Best Small ChainSaw Overall
This Makita XCU02PT Lithium-Ion Cordless Chainsaw features a 1,650 FPM motor that runs on two 18 volts batteries. These two batteries will provide you enough power equals to top range corded and gas-powered models with increased productivity and less downtime. With its 12-inch guide bar length, you can cut through a large 10-inch branch-like butter.
Ergonomic design soft-rubber grip top handle to ease of cutting pressure
For easy maintenance, the tool-less chain adjustment feature is provided
Dual-port charger included for charging both batteries efficiently
To increase productivity electric brake is also added
Oil reservoir is big enough to lubricate the chain automatically
Weighs only 10.1 lbs with batteries
Check Current Price
---
This GreenWorks model comes with a 16-in steel chain and bar which provides you enough cutting power with its 40V battery. This cordless lightweight chainsaw has the added advantage of having a brushless motor which provides more torque and power than a normal motor. Its universal 40V battery can be used in other 25 products of Greenworks while providing you longer run time and gas-like performance to take on medium yard projects.
Less wear and tear due to brushless motor with an increased lifetime of the tool with 70% less vibration
Ergonomically designed Over-molded handle to increase the comfort while Rear handle design you will have maximum control during overhead use
With a fully charged 4.0 Ah battery, you can make 150 cuts on 4×4 treated lumber
To save you from impressive quick power, Chain brake and low kickback chain feature is provide
Check Current Price
---
3. Husqvarna 440e II Small Gas Chainsaw – Best for the Money
This Husqvarna lightweight gas chainsaw 40.9cc 2.4HP 2 cycle engine will provide you with all the power you need to do your yard work. One of the standout features which many users described is its smart start with just one pull and lower fuel consumption which also reduces emission levels. You won't believe me, this lightweight saw can even tackle 8″ stock, weighs just under 10 pounds, and cuts down the dead as well as live limbs like a hot knife through butter.
16 inch with guide bar and chain
2 cycle engine with chain brake feature for safety
Ideal for any homeowner to rely on an everyday workhorse
Tool-less chain tensioning system makes it quick chain adjustments
Equipped with Anti-Vibration System and translucent fuel indicator
Choke/stop control helps you in starting the chain saw easily
Check Current Price
---
Oregon CS1500 corded chainsaw is a good choice for you if you don't want to deal with battery charging or gas-oil mixing. With 15 Amps motor and 18-inch guide bar and chain, this saw have enough power for trimming branches and limbs in your yard with less vibration and low noise. If you don't know Oregon is the world's leading saw chain manufacturer. One of the standout features of this saw is the self-sharpening chain system.
With a built-in Lubri-Tec automatic oiling system, the bar and chain remain lubricated which increases its life.
You can sharpen the chain in 3 seconds just by pulling the PowerSharp lever for 3-5 seconds without removing it
For added safety, a chain brake is available
Quickstart with the pull of a trigger, no delay in work now
Convenient Tool-less Chain Tensioning System
Check Current Price
---
BLACK+DECKER LCS1020 is the 2nd lightest cordless chainsaw on our list. This chainsaw weighs only 7.2 lbs even a female can work with this at home alone to do some yard maintenance work. Its 10-inch Oregon low kickback chain and bar with its 20V Li-ion battery which actually lasts for hours can do small or medium-sized jobs smoothly. This chainsaw is backed by 2-year limited warranty and comes with a 20-Volt charger.
Automatically oiled bar and chain for friction-free work
For blade protection, a guide bar scabbard is provided. Also protects you from injury
A Great lightweight tool for all of the small jobs
Lock-off button given to prevent accidental starting, even good if kids are around
Universal interchangeable battery to use with many other tools
Quick and easy tool-free chain tensioning
Check Current Price
---
Tanaka is a well-known power tool design brand in the USA and Japan known for its innovative tools. Its 14-Inch top handle chainsaw TCS33EDTP meets the EPA phase 3 USA emission standards. The 32.2cc commercial grade pure fire engine provides incredible power to cut even the bigger logs with ease. The biggest positive we found is it comes with 7 years residential and 2-year commercial warranty.
Quick and convenient chain adjustment with side access chain tensioning
For an extended period of use, an advanced anti-vibration system is provided
Easy and Quickstart with Half throttle choke
Can be used for the professional purpose in outdoor or around the house for pruning, shaping and hobby work
Less gas consumption due to two-stroke engine hence fewer emissions
Check Current Price
---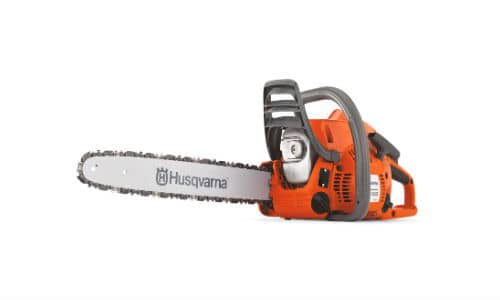 Husqvarna makes the best chainsaws & most of them are gas-powered. Similar to many this Husqvarna 120 Mark II is a compact and lightweight chain saw with enough power to handle your everyday task. For any homeowner, this is an efficient cutting tool with low fuel consumption and lesser gasoline emissions keeping your home environment healthy. Surprisingly it weighs only 9.3 lbs and is good for tree pruning, hobby work, and other light tasks. Overall, we think that you should have this light-duty chainsaw in your shed or garage.
Safety features such as Low kickback & built-in safety break
Automatic oiler for lubrication of chain for safe and effective use
16-inch bar and chain to handle any task
Air purge clean the carburetor for an easy start
Ergonomic handle and LowVib system helps in reducing vibration while operating the chainsaw
Simple and quick chain tensioning with the help of a knob
Check Current Price
---
This little chainsaw has a 40V battery which provides impressive power for many cutting applications around the yard. This Li-ion battery provides a longer run time, extended life and holds the charge 5 times longer than any other competing model. The automatically oiled 12-inch bar and chain are from leading manufacturer Oregon with the low-kickback safety feature. For ease of use, a wrap-around bale handle provides increased comfort and control. 
For blade protection, a guide bar scabbard is included
Its pretty lightweight weighs only 10.4 lbs
The lock-off button prevents accidental starting which is kind of good for safety while working at home around kids
There is handguard at the front is provided to keep your hands safe from flying debris
Quick battery recharge in 4 to 5 hours
For easy chain adjustment while working tool-free blade tension system is there
an improved automatic oiling system for bar and chain lubrication
Check Current Price
---
9. WORX WG303.1 Small & Lighter Electric Chain Saw
If you are looking for a budget chainsaw option as a beginner then this corded electric chainsaw model could be the one for you. With just weighing over 10 lbs, it can cut above the rest with its 3.5 HP 14.5 Amp motor and 16 In. bar length. Most people feel the headache while replacing and tensioning the chain, but Worx exclusive, patented tool-free chain replacement and auto-tensioning system do it with ease. This smallest Chainsaw is quiet compared to gas models. 
With 3.5 peak horsepower, its powerful enough for any kind of toughest jobs 
Automatic oiler for constant lubrication of chain and bar
The chain tensioning system works well. Easy to adjust during operation just with a single, oversized knob 
No need to assemble as it comes fully assembled
Over mold grip rear handle for comfort and more control
Check Current Price
---
FAQ's
---
What is the best small chainsaw?
Makita XCU02PT is the best cordless small chainsaw due to its 1650 rpm motor and two 18 volts batteries which generate more than enough power compared to corded and gas models.
What is the best chainsaw for a woman?
Remington RM1425 is the best electric chainsaw for a woman. It only weighs 6 pounds which makes it an ideal chain saw for a woman.
How much does a small chainsaw cost?
A small chainsaw costs you somewhere between $50 to $300 depends on what type of chainsaw and brand you choose, the size of the motor or battery, and other important safety features it has. Corded Electric and battery-powered models cost you anywhere between $50 to $200 while gasoline models are between $150 to $300.
Can a woman use a chainsaw?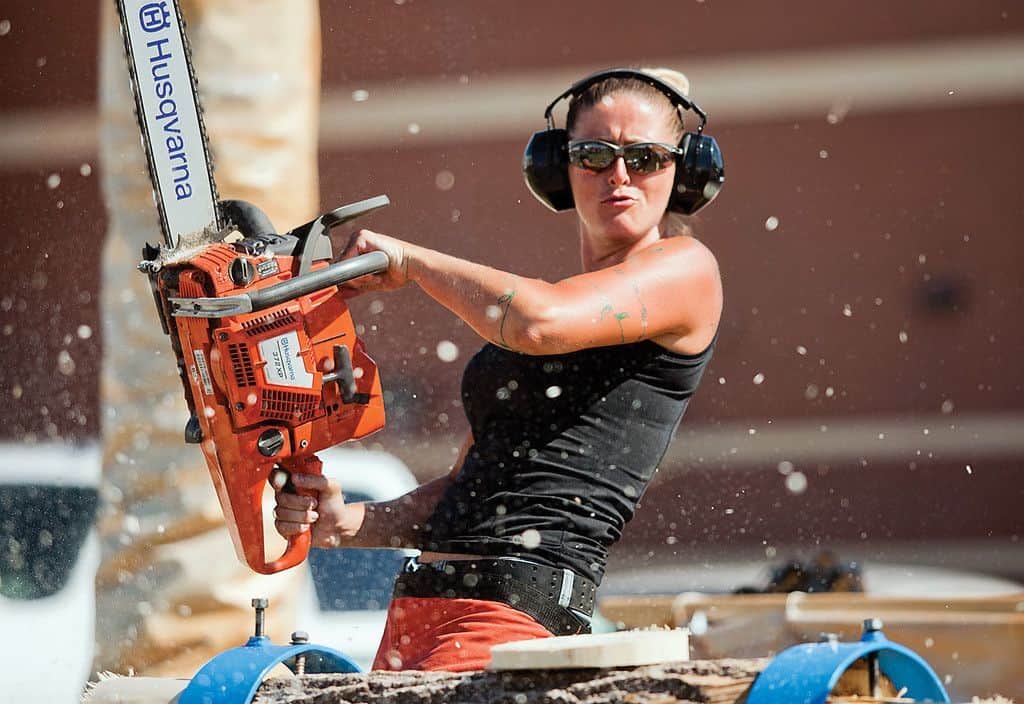 Yes, obviously a woman too can use a chainsaw. If you are a strong woman who can lift a good amount of weight then you can use any saw. But if you are someone who needs a lighter chainsaw, then Remington RM1425 is one of the lightest chainsaws in the market used by many women around the world. It weighs only 6 pounds which makes it easier to use for a woman.
Check out our guide on How to sharpen a chainsaw  , How To Store A Chainsaw