If you want your table saw to cut accurately, you're going to need a good table saw fence. While most table saws come with fences, they are usually not very high-quality. To get the most out of your machine, it is in your best interest to switch out this less-than-great fence for a high-quality, aftermarket product. Luckily, there are plenty of aftermarket table saw fence options available. Many well-known brands like Shop Fox and Delta make great fences that will bump any saw to the next level.
To help you choose the best table saw fence for your machine, we reviewed some of the most popular models out there. Each table saw fence was carefully tested based on durability, accuracy, compatibility, and a few other factors.
Top 5 Table-Saw Fences of 2023
Top 5 Aftermarket Table Saw Fence Reviews 2023
---
1. Vega U26 Table Saw Fence System – The Best Overall
The Vega U26 Table Saw Fence System is 36-inch long allowing it to cut average size materials. It does come with micro-adjustments to help you get your cut accurately and auxiliary table support for extra stability. The whole fence is made out of high-quality steel, so you don't have to worry about it breaking or denting easily. Installation is fairly easy as little as 15 minutes. This fence is compatible with most saws like Delta Unisaws and contractor saws, Powermatic Model 66 saws, most 10″ to 12″ table saws and other saws with fence rail mounting holes 8″-9″ on any side of the blade. For other saws, you may need to drill two or four mounting holes.
This fence is very accurate. The measurements are spot-on, and the micro-adjustments allow you to adjust until the cut is perfect.
The major problem with this fence is that Vega does not always ship it with enough padding. Without the filling, the fence will get knocked around and might end up dented by the time it gets to you. There are also just two brackets on the main rail; an extra one would have provided more stability.
Pros
Steel construction
Easiest to install of all the fences
Auxiliary table supports
Pre-drilled and tapped holes to fit most saws
---
2. DELTA 36-T30 T2 Fence and Rail System – Runner-Up
This table saw fence is designed to clip securely to the front tube, providing plenty of stability and creating more accurate cuts. There is also a rear rail included, though you may or may not end up using it. The fence is made out of steel tubes, making it lighter than many other options. This lightweight allows you to move the fence around quickly.
You can easily slide the fence with just finger pressure and locks solidly. The 3-point T-square locking system is most accurate. There are also added rear supports for extra stability when you're using jigs and feather boards.
This fence just barely missed the top spot. It is only compatible with table saws 27-inches long. If you are ready to drill some holes on other saws, this is one of the most easiest fences to install.
Pros
Good Build Quality
2 Year Warranty
Highly Accurate
Locks Solid
Cons
Not compatible with many different saws with drilling holes
Installation takes time
---
3. Shop Fox W1410 Fence with Standard Rails – Best for the Money
This table saw by Shop Fox is one of the cheaper ones on the market. It moves on ball bearings, which make adjustments very fast and easy. The fine positioning knobs provide micro-adjustments, allowing you to get the fence exactly where you need it. The knobs are also located on both sides for left- and right-handed use. There are locks on both ends for extra stability and accuracy. The last thing you want is the fence moving in the middle of a cut. Either the locking mechanism is active or not, Shop Fox Fence has perfect alignment so that you can make precision settings easily with confidence.
This fence is advertised to fit on most 27" table saws. If you have an older saw, you might have to make a few adaptations to get this fence to fit. Installation is easy and straightforward. The instructions were clear, so you should be able to follow along without much fuss.
Pros
Designed for both left- and right-handed use
Inexpensive
Easy Installation
Locks on both ends
Cons
Drill and tap quality is poor
---
4. Shop Fox W1716 Aluma-Classic Fence with Standard Rails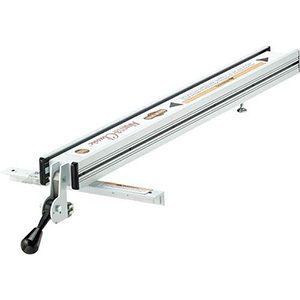 The Shop Fox W1716 Aluma-Classic Fence is 57-inches long, providing a 30-inch maximum rip to the right of the blade. This large fence allows you to cut nearly all practically sized material. It is designed to fit on most saws easily. Plus, this fence is made out of both steel and aluminum. This material makes it slightly less durable but lighter than all-steel options. This fence is designed to handle large angles, so you'll always have the support and accuracy you need when making cuts.
This table saw fence comes with an adjustable magnified cursor, allowing you to line up the fence accurately without squinting at the measuring tape. The measuring tape mounts directly onto the fence and is the traditional yellow and black color scheme. The numbers and markings were easy to view on the tape.
Pros
Heavy-duty, built solid
Adjustable magnified cursor
Functions well and locks tight
Cons
Installation directions were somewhat confusing
---
5. Delta Biesemeyer Fence
This is another fence by Delta Power Tools. It has an accurate yet straightforward 3-point locking system for extra stability. This locking system allows you to make precise cuts without much fuss. The whole fence is adjustable, providing you with plenty of cutting options. The handle is easy to grasp and comfortable, so you don't have to worry about your hand or arm becoming sore. The magnet does an excellent job of keeping it in an up position.
Despite these positives, there were quite a few negative we discovered about this fence. Firstly, there are virtually no spare parts for it. If it breaks, you aren't going to be able to fix it. Secondly, the material it is shipped in is inadequate. This large metal fence can quickly become damaged before it even arrives at your front door. Thirdly, this fence comes with no mounting rails. With these items gone, it is impossible to get it very straight. Finally, this fence also tends to come without the necessary hardware required to put it together. You might have to buy this hardware separately.
Cons
No spare parts available
Hardware occasionally missing
---
How to Choose a Table Saw Fence – Buying Guide
There are many different table saw fence options on the market. After reading reviews of the top 5 table saw fence systems, you may be thinking which features you should be looking for! To help you make the best buying decision possible, we put together this in-depth buying guide.
---
Do I Need a Fence at All?
If you want to make even remotely accurate cuts, yes, you need a fence. The fence helps you keep the lumber parallel to the blade, ensuring that the blade travels in a straight line. If you don't have a fence, you'll just be eyeballing it. The cut will likely end up crooked or even wavy.
Considering the price of wood, you're much better off purchasing a fence than wasting wood trying to get a cut straight without one. Plus, using a table saw without a fence can be downright dangerous. Without the fence for stability, you can end up accidentally touching the blade and injuring yourself.
What Are the Essentials?
The most important thing to consider when choosing a fence is whether or not it will fit on your saw. If a fence can't fit on your saw, you can't use it. While you can sometimes adjust it and re-drill holes by hand, this can result in an unsafe fence and doesn't always work. We will discuss how to choose a fence that is compatible with your saw later in this buying guide.
The second most important feature to look at is rip capacity. You should choose a rip capacity that is fitting for the projects you want to undertake. If you usually work with more significant pieces of wood, like doors, you'll want a fence with a bigger rip capacity. If you only work on small projects though, one with a lower capacity will probably be fine. Of course, when in doubt, bigger is usually better.
Durability is also important. If you're planning on using your saw daily, you want a fence that can stand up to this sort of heavy use. If you only use your saw once or twice a month, durability can take a backseat to other features.
You're also going to want to consider accuracy. While a fence's primary purpose is to produce accurate cuts, some are more accurate than others. Consider whether or not the fence can perform micro-adjustments, whether there is a measuring scale built-in, and how easily you can read the measurement units. Durability plays a role here as well. If the measuring scale is not durable or the unit numbers rub off, you're not going to be able to make very accurate cuts.
Manual or Electric?
Electric models are going to be better for those who cut large quantities of wood every day. These models can do the heavy lifting for you, staving off fatigue and allowing you to cut more. Electric fences are also better for more precise work since you can easily switch between different measurements.
Manual fences are typically cheaper, however. There is also a certain amount of satisfaction from pushing wood along the blade and watching it cut. In the end, it is really up to personal preference and how much wood you're going to be cutting.
Types of Table Saw Fences
There are two main categories of the table saw fences: the T-square and standard fence. In these categories, you have a lot of different options. But, typically, fences can be put into these two categories.
T-square table saw fence is designed to cut precise shapes, such as squares and rectangles. If you cut these shapes often, this type of fence is a must-have. Many of them can also accept attachments, which allow you to work with greater accuracy and provide other benefits.
The standard table saw fence is just what it sounds like. It's a fence that slides back and forth and is generally only used for cutting straight lines. You can use it to cut a square, but this is a lot more difficult than using a T-square. These standard fences can also lay down flat, which makes them easier to use for thin projects.
Choosing a Model that will Fit
As we previously discussed, the most important thing to consider when selecting a table saw fence is whether or not it will fit on your saw. A fence that doesn't fit on your saw is not going to be very useful.
Saw Fences have a particular range and are only compatible with saws that share their range. A 27" fence is typically only going to be compatible with a 27" saw. With that said, some fences are designed to be compatible with a broader range of saws. These fence systems have many different holes that can be used when attaching them, instead of just two or four like most models.
With that said, it is usually possible to drill new holes in the fence to reposition the bolts. However, this is not always possible and can be time-consuming. You should always aim to get a fence that is compatible with your saw, not plan on adjusting it after the fact.
The best way to ensure that you get a compatible fence is to measure your saw carefully. The more accurate you are, the higher the chance a fence you choose will be compatible. If you saw came with a fence, you can also measure this fence instead of the saw itself. However, because you'll need your saws measurements when installing the new fence, there is no reason not just to go ahead and measure it.
Consider the Accessories as well
Some table saw fences are compatible with accessories. These accessories can vary widely. One of the most popular accessories is a jig, which allows you to perform more accurate, advanced cuts. If you want to add these accessories to your saw in the future, getting a fence that can support them is a must. Even if you aren't planning on getting any accessories any time soon, getting a fence that can support them now will save you money in the future.
Accessories are not essential to the success of your table saw, though. This shouldn't be a deal-breaker if you find a great fence you like otherwise. However, it is still vital to consider, especially when most brands have alternative fences that can accept accessories.
Of course, if you aren't planning on using accessories, then you can completely ignore this feature.
Stick with a Reputable Brand
Brand matters. If something goes wrong with your fence or you don't get all the parts you need, having a brand with excellent customer service to fall back on is essential. Plus, some brands are known to pack their products for shipping poorly. The last thing you want is for your fence to be damaged before it even arrives at your house. Choosing a brand that is known for its high-quality shipping can prevent this problem from developing.
Some brands also do not have extra parts available for their fences. In these cases, if something breaks, you're out of luck. You'll have to purchase a whole new fence. If you choose a brand that does have replacement parts, though, you instead spend as little as $5 to fix the fence you already have instead of purchasing a new one. While these things might not seem like that matter much upfront, they can be the difference between a working fence and a broken one down the line.
Conclusion
After considering all the aftermarket table saw fence options available on the market today, we narrowed our search down to the Vega U26 Table Saw Fence System. This is the best table saw fence money can buy. It is compatible with most saws, is made from steel, and allows for micro-adjustments.
For a more inexpensive option, you can choose the Shop Fox W1410 Fence with Standard Rails. This fence is much cheaper than most other options but is still high-quality. It fits on most brand name saws and is designed for both left- and right-handed use.
If you haven't gotten yourself a table saw yet, don't worry. We've got you covered in our popular reviews of the best table saws.
Table Saws by Budget: