We mostly use a wet tile saw when we want to redo our bathroom or kitchen backsplash, or even any room floor. Nowadays, everyone uses tiles near watery areas, especially for heavy use. Hence finding a wet tile saw becomes so important that you need to do full research to buy one. You even may read 100's of reviews online on Amazon or other sites to purchase a wet tile saw. A tile wet saw is a simple, fast & specialized tool for tile cutting. If you are looking to cut smaller tiles you can buy a small tabletop saw.
Make sure you only buy the 2023's best wet tile saw under $300. Well, to make your decision easier we've shared the best products after filtering out from all the available options in the market with their pros & cons. We know you are buying this for small work to lay any tile in your house hence we have listed budget options only under $300 which are worth your money.
Comparison Table
5 Best Wet Tile Saw under $300 – Reviews
---
1. PORTER-CABLE PCE980 Wet tile saw – Editors Choice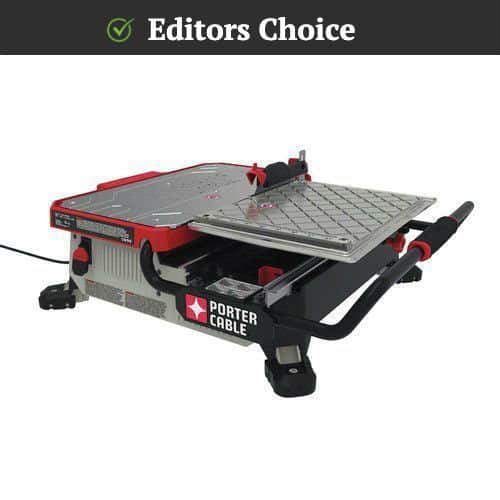 Out of all the budget saws we reviewed, this one by Porter-Cable came out on top. We loved that this 7-inch wet tile saw with 1.0 horsepower motor included an onboard miter square to help us line up each cut. This went a long way to improving our accuracy and helping us make repeatable cuts.
However, our favorite part about this PORTER-CABLE PCE980 saw was the amazing water reservoir system. Most wet saws are incredibly messy. But, with this saw, water spill is at an absolute minimum. The splash guard is very well made and prevented splashing almost entirely. A single towel is all you need to control the mess. No more spending an hour at the end of the day mopping up puddles.
The PCE980 is also designed to be ultra-portable. It can easily be folded up and moved whenever you need to. We found that one person should have no issue moving this saw around. It even comes with a roll cage and carrying handle to make transportation extra easy. We also liked that it folded up so small, which made storage extra easy. The stainless steel deck is also quite durable. It can stand up to quite a bit of abuse; we have no doubt that it would easily be able to deal with normal wear-and-tear.
This good quality tile saw does cut tiles pretty well. It can get through even thicker tiles and is decently accurate. With that said, it did require a little adjusting on our part to make it cut straight. Luckily, the inside rail is slotted, so you can adjust the blade pretty easily. It took a little messing with, but we were quickly able to get our saw fitting near perfectly. We also experienced very little wobble with the blade. Ours cut true the large majority of the time.
Pros
Cast metal sliding tray

High-quality splash guard

Adjustable rear fence

Drain plug
---
2. SKIL 3550-02 Tile-Saw – The Runner-up
This 7-inch wet tile saw is made for the home DIYer. However, in our experience, it would also work quite well for private contractors. It is more than strong enough to last through a few jobs and drips very little water. We were actually quite surprised that this saw made such little mess since most table-top wet saws are horribly messy.
This wet tile saw comes with a hydro-lock water reservoir system, which keeps the water contained near the blade. This feature is largely why this saw dripped so little and actually worked surprisingly well. It helped us reduce our clean up time and even made us feel comfortable using this saw in the house.
We loved how strong the plastic body was. Its table top is made from aluminum so it can take a lot of weight. The extension arm is plastic, which was disappointing. But, we didn't have any trouble with it and it seemed surprisingly solid. We had absolutely no issue with the durability of this saw and doubt you will either. The blade guard works decently well, though some simple upgrades on the manufacturer's part could make it a lot better. For the price though, you can't really ask for much more. This saw is also very light and portable.
However, the smaller footprint and lightweight features hint at what lies underneath this saw. The motor really isn't the best. It doesn't cut particularly fast and likely won't last as long as some other options. Don't get us wrong; it does do the job. But, you have to let it cut at its own pace. If you're used other, more powerful wet saws, you might find yourself disappointed with this model. We also didn't particularly like the blade this saw came with. It is basic and really only does a so-so job. You will likely need to purchase another one if you decide to get this saw.
Pros
Sliding side extensions

Adjustable rip fence with miter gauge

Bevel cuts at three different angles

Good water containment system

Cons
Fence is somewhat difficult to move accurately
---
3. SKIL 3540-02 Wet Tile Saw – Best for the Money
This under $300 saw is also by SKIL, but it is cheaper than our runner-up choice. Basically, 3540 is the 3550's, little brother. They are very similar but differ in a couple of key places. Firstly, this saw does not have a water reservoir system. It can get quite messy. There isn't much to keep the water on the table, so we ended up with tons on the floor. This leads to quite a bit of clean-up. This is a saw you use outside.
Secondly, this budget wet tile saw supports tiles up to 12 by 12 inches. This is actually quite large, so there are no complaints there. This should be more than enough for most projects, especially if you're a weekend warrior, not a contractor. Its table top is made from stainless steel which will resist corrosion after multiple uses. The adjustable rip fence with miter gauge will allow you to make accurate and straight miter cuts.
We liked that blade cooling reservoir on this machine, though we do think it could be designed a little bit better. This safety feature prevents the blade from heating up unnecessarily and provides a constant flow of water. We found that this constant water flow helped minimize dust and debris. However, it does not work as well as some of the other saws we reviewed. It's a good feature, just not a great one.
We did have quite a bit of a problem with this saw chipping our tiles. More often than not, the last little bit of our tile would chip off. Luckily, this can be hidden in some cases. However, depending on your project, this can be a huge letdown. There is also no blade guard attachment and no way to attach a blade guard. It sprayed us quite a bit while we were using it. This didn't make the saw unusable by any means, but it was quite annoying.
Pros
Inexpensive

Cuts accurately with 7″ blade diameter diamond blade

Easy Set-Up

Water containment system

Cons
VERY messy
Poorly written directions
---
4. MK Diamond 157222 Tiler Saw
This is a 7 inch wet tile saw has a diamond blade of 7″, water pump and it just cuts only. However, it really doesn't cut very well and many of the features are poorly. We did like how easy it is to set-up and the water reservoir system was well thought out. It didn't spray us as much as other saws, though we still think it could have been better.
Whenever we would cut larger tiles, the water would run off and miss the tray. Still, it works just as well as you could expect from a cheap, little saw. The motor is decently powerful – more than enough to cut your average tiles. We were actually quite surprised by it.
This saw was quite accurate in our experience. It did not require much adjusting or re-cutting. As long as you measure carefully, you should have no difficulty getting accurate cuts. We also had no issue with the durability of this saw. It is not made out of the best material available, but it seemed very sturdy.
While there were plenty of things we liked about this saw, there was also quite a few things we didn't. The guide fence is quite useless. We gave up on using it after a few tries. You'll be better off rigging something up or drawing a line directly on your tile. While the motor is good, it is also slower than we would like. For such a little saw, this is to be expected. However, if you're looking for something fast, this isn't the saw for you.
It also wasn't as accurate as we would like. We had some difficulties getting it to cut straight. The blade it comes with is also not very high-quality. It works well for a cut or two but quickly begins to dull. For a very short project, this blade might work. However, for anything more than that, we suggest purchasing a better quality replacement.
Pros
Cast metal sliding tray

High-quality splash guard

Adjustable rear fence

Drain plug
Cons
More expensive than other options

Lack of drainage

Weight of motor bends the frame
---
5. Ryobi WS731 Tiling-Saw
Sadly, we cannot recommend this Wet Tile Saw if you really want good cuts. But if you looking for ultra cheap, you can get it because the best thing and only good thing about this model is that it is under $300.
It is okay in some regards, but downright disappointing in others. The hose that brings water to the table clogs very easily. It was obviously not very well thought out or designed.
You also have to cut extremely slow. Not because the motor is weak, but because there is quite a bit of flex in the design.
When you're cutting the tile, the blade will push up if you try to cut too quickly. The blade also isn't very high-quality; we used a replacement. This saw doesn't have a water pump to clean it after cutting tiles.
With that said, this tile saw is pretty well built. It is quite durable and strong. We expect that it would last through quite a few jobs. It cuts ceramic pretty well, though it doesn't work as well on porcelain.
Cons
Stand and pump are "add-ons"
Motor is not very powerful

No Water Pump Included
---
Conclusion
Not everyone needs an expensive option. For a simple one-and-done job, a budget saw is often all you need. The PORTER-CABLE PCE980 is one of the best wet tile saw out there. It is very portable and has amazing water management. The SKIL 3540-02 is best for money option if you need something particularly inexpensive. It is very cheap, but can still perform most jobs pretty well.
Also if you're looking for how to cut a tile without a wet saw, we have a guide on that too.