In this article, we are going to share 7 tools on how to cut tile without a wet saw. So if you're about to break ground on your first tile project and you're wondering which tools you actually need and which tools you can just forget about. This article is going to help you do that. There are many tile cutting methods like a manual tile cutter, Grinder, tile-nipper, and many more. We have discussed each tool in detail below. 
7 Tools to Cut Tile Without a Wet Saw
Even though a wet saw is an important tool to cut a tile but apart from that there many tools that can help you to cut tiles. You can cut Porcelain, Ceramic, or Glass tiles.
1. Cutting Tile With a Manual Tile-Cutter
---
So the first time cutting that that we want to talk about is the manual tile cutter. This is a very common tool for cutting a variety of tiles without a wet saw, including ceramic, glass, glass, mosaic, porcelain, and even terracotta. 
You can pick one up anywhere from 50 dollars up to 900 dollars. So the 50 dollar versions are fine for ceramic tile DIY projects. We have tried cutting a larger piece of ceramic tile. Ceramic is the softest and easiest tile material to cut. So even the cheap manual cutters have no problem here. 
However, if you plan to cut porcelain tile or even thicker glass tile, you want a bigger, more robust version of one of these manual tile cutters. It makes cutting subway tiles even easier.
You can't cut a large porcelain tile with a cheap manual cutter as it isn't sufficient for thicker porcelain tiles. This manual snap cutter does not have enough force to snap it even on a shorter cut. I had trouble snapping the porcelain tile again. 
You just need a bigger, stronger version to cut porcelain with these tools. One disadvantage of using this tool is you won't get smoother edges. For that, you need to use other cutting methods like using the best wet tile saw.
This tool is also great for cutting glass mosaic tiles. In fact, it's really the only way to do it and get clean cuts without chipping the glass. You will need to go slow and snap each individual tile separately, but this is the best way we've found to cut these mosaics. 
So the manual snap cutter is an essential tile installation tool. You want one on most tile projects unless you're installing natural stone like granite or marble. For ceramic tile, you can cut using a cheap one & for the harder, thicker tiles you want to use a bigger, more robust version.
2. How to Use Tile Nipper cut some Small Corner
---
Tile nipper, nibble, or tile snips is to be used if you want to cut a small portion of an individual ceramic tile. They are primarily used to make circular cuts in ceramic tiles that are difficult to achieve with any other tool. This is one of the simplest tools you will buy for cutting a tile or probably even the cheapest one.
For nice, clean cuts and edges we use a snap tile cutter because it is easy to achieve a straight edge with it. This tool comes in handy if you have to cut some small corners or curved cuts? For more information regarding how to use it, watch the below video.
3. How to Cut Tiles Using a Glass Cutter
---
A Glass cutter with a wire hanger is the best pair of tools you need to cut a few tiles without a wet saw. First, make a cutting line using a square guide on the tile. Once you cut the ceramic surface of the tile using a glass cutter, then place the tile on a wire hander within the line where you made the cut. Now just put the pressure down on the tile. For more information regarding how to use the tile with a glasscutter, watch the below video.
4. How to Cut Tile with a Grinder
---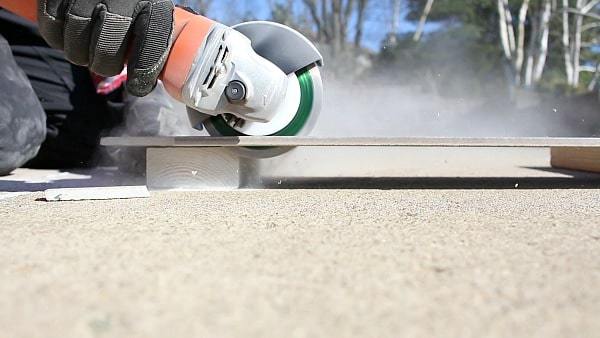 Let's talk about the good old 4-inch angle grinder with a diamond blade on it. This is a great tool for making curved cuts or small detailed cuts. However, it doesn't create the cleanest of cuts and it does produce a lot of dust. After cutting we saw that it created a very rough edge on the tile. Now, if we had a fresher blade, it would have likely to cut smoother, but it's still not going to be as smooth as a wet tile saw. 
This is a really versatile tool that can cut just about any Tile or Stone without using a wet saw. Even harder stones like granite. This isn't really an essential tool to have for your tile project, but we still highly recommend buying one because it has so many other uses and you'll probably find it helpful for at least a couple of tile cuts on your next tile project. 
5. How to Use Hole Saw for Tiles Cutting
---
A hole saw is a very helpful tool, especially if you need to make holes in a tile for any plumbing fixtures. Sometimes the placement of a pipe for a showerhead or a bathtub faucet will be right in the middle of the tile. And it's really difficult to cut the hole without a hole saw. 
Now a diamond hole saw can cut through just about any kind of tile. It can cut through the ceramic tile like butter while to cut through porcelain tile you need to put some water on. 
It will cut through ceramic like butter but with harder materials like porcelain or granite you want to get it wet to speed up the cut and to avoid burning out the bit prematurely. Now, of course, there are more methods for cutting tile that I haven't mentioned in this article. 
6. How to Use a Tile scribe to cut Wall Tiles
---
Tile scribe is the tool you must use if you want to make straight cuts through tiles. This is one of the simplest and cheapest tools you can use to cut tiles without a wet saw. It is one of the easiest tools to use smoothing down rough edges from a tile. 
7. Cutting Tiles with a Jigsaw
---
If you don't know, you can cut a variety of material with a Jigsaw and ceramic tile is one. Being Small and lightweight any beginner can also use this tool without any skills required. You can use a jigsaw to make quick, precise angled or curved cuts on the ceramic tile and don't need to use any special saw for cutting a tile. Know more about Jigsaw.
You need to use a carbide-grit ceramic blade to make the cut and reduce the chances of breaking the ceramic tile. 
Precautions for Cutting Tiles
---
One of the main benefits of using a wet saw is that it reduces the amount of dust while cutting tiles. If you are looking to cut a tile without a wet saw, always wear protective gear like a respirator mask for small particles. Make sure you have proper clothing, use gloves, goggles, ear protection, and right shoes. 
These tiny particles or floating fibers can enter your eyes and cause them to redden or swell. Hence you must wear protective eye gear that wraps around the sides of your eye. Keep the tile-cutting tools like a utility knife, straight edge or square, leveler and pencils, or chalk-line markers.
Small Tile-Cutting Jobs
---
To get the clean and precise cut on a few ceramic tiles you need a glass cutter and a wire hanger. A Glass cutter will guide over the line to make a straight cut and with pressure from the wire hanger rod on the surface of the tile helps to make a clean line when the tile breaks.
Conclusion
---
For most DIY projects, these are all of the tile cutting methods you'll need for a high-quality tile installation. So let's say you're about to tackle a ceramic tile project like subway tile. In that case, I recommend you get a wet tabletop tile saw, a manual cutter, a drill, hole saw and an angle grinder with a diamond blade. 
You can get away with one of the cheaper manual tile cutters for ceramic. If you're working with porcelain, which is more difficult to cut than ceramic, then you want to use those same tools to cut tile without a wet saw. 
But stay away from the cheaper manual tile cutters. Instead, get a heavy DV version that is recommended for cutting porcelain tile as well. If you're going to be using natural stone tile like granite or marble, then a wet saw will be absolutely essential. And you'll also want a hand-held wet tile saw for those detailed cuts. 
An angle grinder will also work for detailed cuts, but having a wet saw will make things go faster and it will eliminate the dust.