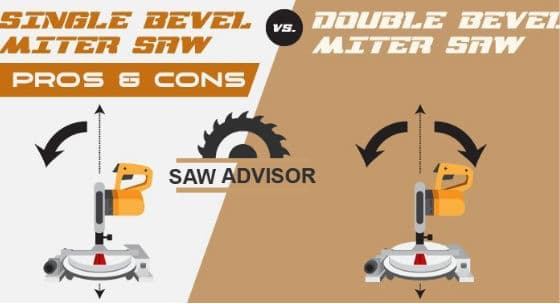 The major difference between the single vs dual bevel miter saw is in the directions they cut. For instance, with compound saws or double bevel miter saws are you can tilt it to both left and right and bevel in both directions without even flipping the workpiece. While for single bevel you need to flip the workpiece 180 degrees every time you want to make a cut on each side.
If you want to achieve great success in every project you are handling in your workshop, having the right tools is the key thing. One of the most important tools you should always have is a miter saw. This tool provides the best results when cutting. However, when shopping for miter saws you will realize that they come in different types like a single bevel or dual bevel compound miter saw with a slide or a basic miter saw with no bevel or slide.
The most common ones are single bevel and dual bevel miter saws. If you are a beginner, you need to have a clear understanding of how each one works before buying to ensure that you have picked the right tool for your projects. Today we look at the major differences between single bevel vs double bevel miter saws.
What is a Bevel Cut Mean?
---
Bevel cuts simply mean an edge in which an angle is not more than 90 degrees. You are likely to see beveled angles in furniture, cabinets, baseboards, and mirrors. These angles are created to prevent accidents that might occur from the perpendicular and sharp edges. They are also created just for decorations.

You can make 4 different types of cuts on wood which are bevel, crosscut, miter, and compound. Both bevel and miter are pretty similar but there is a minute difference.
A miter cut is basically an angled cut made on the face of two wood blocks to join them via corner which is called the miter joint. While a bevel cut is also an angled cut made on the edge or end of a wood.
A miter cut is made by pushing the wood block against the table at an angle to the blade while the bevel cut is made by changing the blade angle on the wood.
Single Bevel Miter Saw
---
The single bevel miter saws come with a pivoting feature that enables it to make angled cut in one direction. That is either on the right or on left. In simple terms, a single bevel saw allows you to cut only in one direction. This means that when you want to make a bevel cut in the opposite direction, you will need to flip the board over and cut in the same direction. However, the bevel shouldn't move past 90 degrees.
Who should buy a Single Bevel and why?
A single bevel miter saw is the best option for anyone who does jobs that involves cutting bevels on two sides of the material. When making the second, you will just need to turn the material or wood over. However, you need to be extremely careful because the angles must match perfectly. Failure to do this will lead to wastage of the material and time wastage.
You will also need it when you want to make some adjustments or when you want to make compound precise cuts manually. As a result, using it will enhance your skills as a DIY expert.
For those who are on a tight budget, a single bevel compound miter saw will be a great option because it is more affordable than a dual bevel miter saw.
Whether you are searching for a tool you can use for your home improvement projects or you are a professional contractor, a single bevel saw will be very useful because you can use it to make different cuts.
Pros
Easy to use
Affordable
The best for DIY projects
Cons
It is a bit slow since you have to turn the material
My Favorite Single Bevel Miter Saw:
DEWALT DW715 15-Amp 12-Inch Single-Bevel Compound...
15 amp motor, 4,000 rpm delivers extended power and durability for the 12-inch miter saw blade
Adjustable stainless steel miter detent plate with 11 positive stops of the mitre saw improves...
Precise miter system and machined-base fence support optimize cutting accuracy for DEWALT miter saw
Double Bevel
---
Unlike a single bevel, A dual or double bevel miter saw allow you to cuts in both directions. As a result, it allows you to make accurate cuts on the two sides (right or left). This makes it the best for those who are searching for the most versatile miter saw.
Why do you need a dual bevel miter saw?
A dual bevel is the best for anyone in need of a versatile tool. Since it is able to swing in any directions, it will simplify your work when cutting different materials. It also provides more accurate cuts as compared to a single bevel miter saw.
If you need a tool that will allow you to cut without wasting time, then you need to consider a double bevel miter saw. These tools are very fast which makes them suitable for handling long pieces. Again, you will not need to flip the material like when you are using a single bevel miter saw.
Any professional or DIY enthusiast in need of the most accurate miter saw should look for a Double bevel miter saw. This is because you do not need to make many adjustments like when you are using a single bevel saw.
Pros
Very versatile as compared to a single bevel miter saw
Accurate
Reliable and provides a great performance
It is fast
My Favorite Dual Bevel Miter Saw:
Discount
BOSCH GCM12SD 15 Amp 12 Inch Corded Dual-Bevel...
AXIAL GLIDE SYSTEM: patented glide system allows wider cross cuts and better alignment while also...
CAPACITY: expanded cutting capacity, 14 inch horizontal capacity nominal 6 1/2 inch vertical...
ADJUSTABLE: provides easy adjustments with a large, easy-to-read uniform bevel and stainless steel...
Conclusion
---
When you want to purchase a miter saw for your workshop, you can opt to pick a single bevel or a dual bevel miter saw. However, your choice will be determined by the type of tasks you are intending to do. If you love doing DIY and home improvement projects, a single bevel miter saw will be the best. On the other hand, a double bevel miter saw is more versatile and the best for cutting long pieces. It is also accurate and very reliable. As a result, it is more expensive than the single bevel miter saw.
If you want to know about more miter saws; read our article on 5 different types of miter saws.