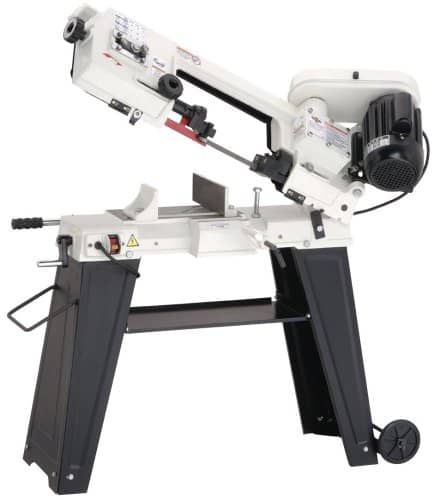 With the best horizontal band saw, you should be able to cut practically everything, including metal. These versatile tools can be quite expensive, however, and will likely be the most important purchase a contractor or hobbyist will make. Because of the price tag, you'll only get one chance at purchasing the correct horizontal band saw for you, so it is essential that you collect all the information you need before you purchase one.
To assist you in making the best purchase possible, we have five of the most popular horizontal band saw reviews and crafted a complete Buyer's Guide. We rated each saw based on its power, ease of use, safety, assembly, and price.
Horizontal Band Saw Comparison
5 Best Horizontal Band Saw Reviews 2021
---
1. Grizzly G0561 Horizontal Band Saw – Top Picks
The Grizzly G0561 Metal Cutting Bandsaw is on the less expensive side, especially when it comes to quality bandsaws but still used by industrial experts. This saw has a single phase 1 horsepower motor 115v or 220v which is much better than smaller bandsaws comes with 1/2 HP motor.
The blade width on this saw is 0.750″ which is much better than smaller saws come in 0.500″ width. It comes with standard length & fortunately for this model, you can found easily on the market. For the best performance, make sure you buy the bi-metal bandsaw blades, as the one that comes with this saw isn't sufficient enough.
This Horizontal Band Saw has a low footprint while also boasting a large capacity. It is designed to cut 7-inch round materials and 7 x 12 inches rectangular materials, which should be plenty for most people. This saw is also decently portable and can be transported with one or two people.
The 2-½ gallon coolant system makes sure you won't cut dry with your bandsaw. It is not a necessary thing but helps in increasing the saw and blade life. You can also adjust the flow of the coolant using a simple valve.
The machine itself is made with cast-iron, including the bed, frame, and wheels. Cast-iron is very durable, allowing this saw to stand up to heavy use. The hydraulic feed system is very easy to use, helps you tune in on that perfect feed-rate and the automatic shut-off prevents unnecessary injury.
Pros
Cast-iron made, Durable for heavy use
Comes Pre-lubes and pre-adjusted
Cons
Need to buy coolant separately
Installation is somewhat difficult
2. JET 414560 HVBS 712D Deluxe Horizontal Bandsaw – The Runner-Up
This high-end saw is a little more expensive than our top pick. But, it comes with some extra features that can make the higher price tag worth it to the right person.
It has a large 10 x 12" table that allows it to cut very large pieces of material. It comes with a 3/4″ Bi-Metal blade to cut things much easier which you have to buy separately for our top pick.
The infeed table can be used both horizontally and vertically, giving you the freedom to cut your materials however you need to. When used vertically, the multi-position blade guide increases the throat capacity by 4" to 8". This larger capacity allows users to cut bigger pieces of metal safely.
A quick-lock mechanism stops the mitering positions at 15, 30, and 45-degrees. This mechanism does not require extra tools to operate.
There is a built-in storage cabinet that can be useful if you're running low on storage space. A chip tray catches the debris for easy clean-up. The set-up for this horizontal band saw is completely tool-less and very easy. The machine needs very little adjustments during the set-up process, so you'll be able to begin cutting sooner.
Pros
Multi-position blade guides
Adjustable tool-less material stop
3. WEN 3975 Band Saw – Best for the Money
If you don't need a huge horizontal bandsaw, the WEN 3975T might be the best option. It is only 5-inches, which likely won't be enough for most professionals, but it cost far less than most of the other models we reviewed.
It has an adjustable blade speed from 125 to 260 feet per minute, making it compatible with a wide array of different metals. The beveling blade can make cuts between 0 and 60 degrees, which is more than enough for most home DIYers. Despite the small size, this saw can cut materials up to 5-inches in diameter or 5 x 4-⅞ inches of rectangular materials.
This benchtop horizontal band saw is backed by a two-year warranty. If it breaks before then, you can return it to get fixed or your money back.
This saw also comes in two bigger sizes. However, they are more expensive than this small cheap horizontal band saw under 500. The on-board tilt knobs make adjustments very quick and easy. Overall, this saw is made very compact and can easily be stored and transported.
Pros
Compact design makes it easy transport and store
Ball bearing blade guides for long lifespan
Cons
Mainframe is cast aluminum
Takes some time to set up
4. Fox Shop W1715 Metal-Cutting Horizontal Band-Saw
This is a 3-speed bandsaw comes with 3/4 horsepower powerful motor, can be used for vertical cutting as well. You can use it for small or large projects to cut materials like metals, plastics, or wood. It is small and portable, allowing one person to move it around pretty easily. Due to the small size, this horizontal band saw is a good option if you don't have much space in your shop. It has three cutting speeds, operating at 78, 108, or 180 FPM. The speed must be adjusted by changing the V-belt placement.
This saw also includes a vise for holding materials in place when you're holding horizontal cuts. The vise worked decently, but we feel like it could have been improved on. The cast-iron stop on this horizontal band saw will keep your workpieces in place while you're making horizontal cuts. This feature helps you make consistent cuts over-and-over again.
The feed rate on this saw is controlled by a spring and handle. You just twist the handle from one side to the other to adjust the feed rate. We found this system pretty easy and effective.
Cons
Base is not strong for moving
5. JET 414458 HVBS-56M Band Saw
This horizontal band saw is designed for home shops. It comes with a heavy-duty 14-gauge stand that can hold up to years of heavy use. The large wheels and built-in handle make moving this saw around very easily. One person can move this saw around their workshop without any issue.
The 1/2 horsepower motor was not as strong as we would have liked, but can cut through aluminum and steel. The saw automatically shuts off after every cut to prevent accidental injury.
The vise on this saw can swivel up to 45 degrees and the throat depth is five inches. These features allow you to make a wide variety of cuts. The blade speed can be adjusted to 80, 120, and 200 feet per minute. This large range of speed should allow you to cut nearly every material with ease. This saw is covered by a two-year warranty.
Pros
Cuts are straight and square
Cons
Vertical cutting table bends for no reason
Buying Guide
There are a few features you should keep in mind when deciding what metal cutting horizontal band saw machine to purchase. Here are the most important features for you to look out for in horizontal band saws:
Blade Width & Length
Without a good blade, a horizontal band saw is practically useless. Most bandsaws come with a blade width of 0.500″ but we recommend you choose with 0.750″ or 0.1000″. Typically, you're going to need to switch the blade on any saw you get if you want to make accurate cuts. However, this is, of course, going to cost you more money out of pocket. If you're on a tight budget, aim to get a saw with at least a somewhat decent blade so you won't need to upgrade immediately. The best way to tell the quality is to check the customer reviews. If a saw comes with a poor blade, other customers will be sure to let you know there.
You should pay attention to what size a horizontal band saw takes. Most saws take standard-sized. This means you can replace your saw's blade easily. You'll also be able to get it from many different manufacturers, increasing the quality and types available to you. If the saw is only compatible with an unusually sized though, it is going to be difficult to find a to fit it.
Table
The table that you're putting your workpieces on should be at a comfortable height and stand firmly on the ground. You don't want a table that is wobbly or way too low. An unstable table can quickly become a safety hazard. This is not something you can upgrade or fix, so be sure the horizontal band saw you purchase has a quality table.
You should also ensure that the table is flat. Warps can cause uneven cuts and make saws practically unusable. When buying a horizontal band saw online, you will not have able to tell if the particular saw you're purchasing has a warp in it or not. However, some companies are notorious for selling warped tables. Generally, we recommend getting one of the saws that we reviewed to ensure you aren't getting a table with dents.
Guide
The guide has one job – to guide the blade across the material smoothly. The better the guide, the more accurate and straight a cut is going to be. Practically every guide can be adjusted, so be sure to adjust your guide before you get cutting. Generally, guides are pretty good across most bandsaws. They're a pivotal piece of equipment and are kinda hard to mess up. Still, you should check that any horizontal band saw you choose does come with an adjustable guide.
Vise
A vise's purpose is to hold your work material in place while you're cutting. They should be particularly sturdy and durable. The last thing you want is a vise breaking while you're in the middle of a cut. Be sure to press the vise into the material by about 1/8th of an inch before making cut to ensure the workpiece is stable.
Safety Switch
A safety switch is a vital safety feature for any band saw. This switch prevents the ON switch from working. It is kinda like a safety on a firearm. The machine won't go off until the safety is also disengaged. This feature adds an extra aspect of safety to the environment. You should plan on purchasing a saw with this feature, especially if you have children at home or others that might accidentally (or purposely) press the ON button when they shouldn't.
Adjustable Angle Gauge
Even if you just have a small project or two, you're likely not just going to be making 90-degree cuts with your horizontal bandsaw. Instead, you're going to be making all sorts of angled cuts. To accommodate these cuts, get a horizontal band saw that can adjust to a wide range of angles easily and efficiently. Most horizontal band saws have the ability to make angled cuts, but the amount of adjustability they have varies. In general, the more angles a saw can cut at, the better. The clamp that holds the adjustable angled gauge onto the saw should also be strong and durable. If it comes off, you aren't going to be able to use it.
Conclusion
Out of all the saws we tested, the Grizzly G0561 is the best horizontal band saw. This saw is easy to use and made of durable cast-iron. It is decently sized while also being less expensive than many of the other models we reviewed. Plus, it is extremely portable and can be moved around easily by one person. If you're looking for something less expensive, you might be interested in the WEN 3975T. This saw performs pretty well, especially for the low price.
Related: