For any home DIYer or professional, a miter saw is a must-have tool. No matter how many other tools you have, a miter saw is vital to getting your projects right the first time. No one wants to spend precious time and materials making inaccurate cuts. This wastes your time and money, which is why it is vital that you invest in a quality miter saw for any detailed project.
While all saws are designed to make accurate cuts, some do this better than others. Not all tools are created equal, and these saws are no different. When it comes to buying a miter saw of 10″, you deserve only the best. To help you make the best buying decision, we've created this complete guide of 10-inch miter saw reviews.
Comparison of Our Fav Picks:
5 Best 10-inch Miter Saws 2021 – Reviews:
---
#1. Bosch CM10GD – Best Overall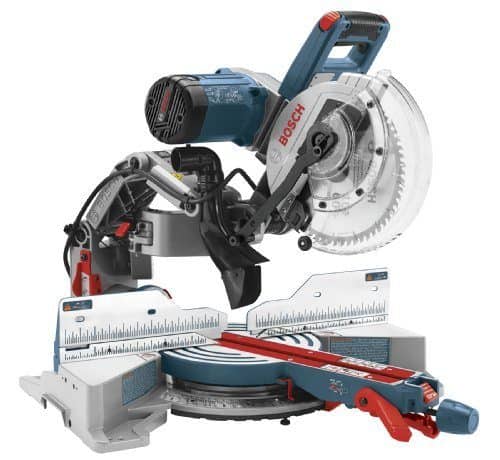 This Bosch CM10GD is our top pick as it did everything as a miter saw is supposed to be reliable and efficient. The angles were spot on for everything we cut. It was ready to be used right out of the box and didn't require much calibration on our end. Even after we used it for a few hours, it still cut straight and accurately. It went through our material quite easily as well and produced surprisingly smooth cuts.
We appreciate the strength of this saw's motor which is 15 Amp. It was strong enough to get through everything we threw at it. After hours of use, the motor is still going strong. We expect that this is a saw you can plan to use for years to come. It also allows for angles passed 45 degrees in either direction, which is a hard feature to find. We found this enormously helpful for some of our cuts.
There are a few things we don't like about this saw, though. It does not come with a laser pointer, which we like having as a quick reference. You can purchase a third-party laser pointer, but that requires spending more money. This saw is also way heavier than the others we reviewed. It is not portable in the slightest. You will need to have a dedicated space for this machine.
Pros
Pivoting slide arm
Well constructed
Turntable rotates easily
Stable
Smooth and Precise cuts
---
#2. DEWALT DW713 – Runner-Up
This Dewalt saw is light and portable. It weighs only 35-pounds and even comes with a built-in carrying handle for transportation. We found that this saw is easily transported by one person. We could move it around the job site easily and even load it into the back of our truck. If you need a saw that can be transported, it is hard to beat this one.
We love that this saw is accurate right out of the box. We tested accuracy right out of the box and found that this saw was spot-on. It didn't require any calibration on our end. We also appreciate that the dust collector does its job very well. Most saws have dust collectors, but the large majority of them do not do a very good job. We were very surprised when we found that this one did remove quite a bit of the dust we produced while working.
The main issue we have with this saw is that it appears to have far more regular defects than other models. It is not very uncommon for customers to receive saws with knobs broken off, blade change systems malfunctioning, and warped blade guards.
Sadly, Dewalt's customer service isn't the best and it is often difficult to ratify these problems. While we didn't have to deal with these difficulties ourselves, you very easily could. Because of this issue, we had to bump this saw down to the second place. It is a great machine when it comes properly put together. But, you should not have to wager on whether or not something you purchase is going to be put together properly when you receive it.
Pros
Powerful motor, Clean cuts
Bevels from 0 to 45 degrees
Easy setup
Cons
Dewalt LED laser is not compatible
---
#3. Hitachi C10FCG – Best for the Money
This saw was a great value for the price. It is significantly cheaper than most of the other options, yet it performed nearly as well. It is not fancy nor does it have many of the features more expensive saws do. Still, it does its job quite well and we highly recommend it.
We love that this saw was well put together even though it is less expensive. The construction felt sturdy and well made. There was little to no vibrations while we were cutting. While this saw is cheap, it definitely doesn't feel that way. It also includes quite a few "add-ons" that we appreciate, such as a material cage extender, clamp, and base stabilizer bar. For the price point, having these extra features was really surprising.
Of course, the low price point also means that this saw has quite a few cons. The laser is very dim and not useable if you're working on a bright space. We were excited that this saw came with a laser at all, and was quickly disappointed when we realized it doesn't actually work well. The dust collector also doesn't work nearly as well as some other models. It only collects about half the dust produced. We still consider it as best for-dollar value.
Pros
Cuts consistently
Good choice for beginners
Straightforward assembly
Lightest
Cons
Angle measurements are not accurate
Comes with a low-quality blade
---
#4. Evolution Power Tools RAGE3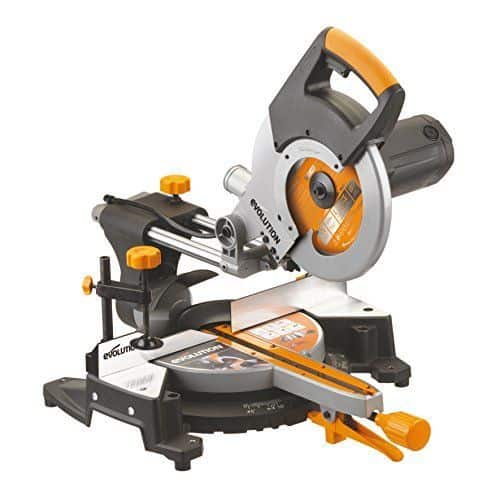 This wasn't the best saw out there we reviewed, but it also wasn't the worst. There were quite a few things we liked about it. We love that is can cut through nearly any material you throw at it with the included blade. It can get through the wood, metal, aluminum, and even tile. While most other saws can do this, they usually require that you purchase another, high-quality blade first.
This one does not, which can save you quite a bit of money. It also sparks minimally and produces less heat than other miter saws we looked at. This improved the overall safety of the saw and also improved the finish on our material. The RPM and gear reduction are spot-on for cutting metal. If you work with metal regularly, you can't beat this saw.
However, there were also quite a few things we didn't like with this saw. The blade comes with is decent and surprisingly multi-purpose. But, it is not as good as some specialized blades are. Depending on your project and how much you use this saw, you might want to consider purchasing a different blade. We also found that this saw is not as durable as other options. Pieces tend to break easier and wear down faster. It is not a saw that is designed for heavy use.
Overall, this saw is a Jack-of-all-trades but a master-of-none. It can do just a little bit of everything but is best left to more mundane, easier jobs. It's a good saw, but not a great one.
Pros
Large cutting capacity
Easy to set up
Cons
Cuts produced are "meh"
Laser is impossible to use
Construction does not feel safe
---
#5. Chicago Electric 10 inch Sliding Compound
We really wanted to love this saw. It is quite popular and we have heard many good things about it. However, as we began unboxing it, our hopes were quickly crushed. This saw is cheaply made, and it shows. Nearly the whole thing is made of plastic. We were skeptical about how long this saw would last and our fears were quickly realized.
Within the first hour of using this saw, things started breaking. First, the blade guard does not work at all. It will not lower when the blade does and appears to be defective. This is a safety problem that made using this saw very uncomfortable. Then, the tighteners broke off. To make matters worse, there are no replacement parts available for this saw. We had no way of fixing it. At this point, we stopped using the saw due to safety and practicality problems. (We were also quite worried about what would break next.)
With that said, there are a few positives about this saw. It cuts things when it isn't broken and does a pretty decent job. It isn't as bulky as some saws and is also quite cheap.
Cons
Dust collection system doesn't work
Plastic materials
Noisy
Not accurate
---
Buyer's Guide
---
Ability to withstand in Long run
For 10-inch miter saws, durability is very important. Saws are a big purchase. No one wants to spend their hard earned money on one that is only going to last a year. Saws should be made out of high-quality, sturdy materials and should be built to withstand quite a bit of punishment. Knobs especially should be well made, as these smaller pieces tend to break. While saws made out of cheaper materials might cost less, they are more prone to breaking, which can cost you more money in the long run.
They are smaller than their larger counterpart which is 12-inch, which means they are somewhat more prone to breaking. This makes durability even more important.
The right tool for the right Job
—> As 10 inch is smaller than their counterpart which means that they have a more limited cutting capacity. However, the blade also tends to spin faster due to the shortened blade radius. Because of this faster spinning, you don't have to worry about power as much as you would with a larger saw.
Still, any saw you purchase should have a decent amount of power behind it. Otherwise, you risk not being able to cut much of anything at all. In most cases, the bigger the power output, the better. But, more powerful motors are also often more expensive. If you only use a miter saw occasionally, there is little reason to purchase the most powerful saw out there. Instead, purchase the saw with the amount of power you actually need for your projects.
—> There are 3 different types of 10-inch saws. All of these are going to have the same size blade. However, they will differ in other ways. For example Basic, Sliding, and Compound. The basic type is just what it sounds like. It has basic functionality and does not bevel.
Things get a little more complicated when you begin discussing the other two types. A compound miter saw can tilt in order to make angled cuts. Some tilt in both directions while others only tilt in one. A sliding miter saw slides back and forth, which can increase cutting capacity.
Many companies make variants of all these saws. For example, Chicago Electric makes both a sliding saw and compound saw. You can purchase the Harbor Freight's Chicago Electric 10-inch sliding miter saw or compound sliding saw. This gives you a wide range of options.
Other Things
— Most saws have some sort of dust collection unit. This dust collector collects dust as you saw, helping keep your workspace clean and visible. Without one, you will likely have to stop often and clean your workspace. An accumulation of dust can result in limited visibility and can even be a fire hazard. It really is important that you keep your workspace as clean as possible, which a dust collector can help you with immensely.
Of course, not all dust collectors are created equal. In fact, many don't work well at all. Generally, the more expensive the saw, the better the dust collector on it will be. This is not necessarily a must-have feature. Still, it can make your day a lot easier and lessen the amount of time you have to spend cleaning up.
—> A miter saw that isn't accurate isn't worth much. After all, the main point of a miter saw is to provide accurate cuts. If it can't do that, you likely aren't going to be using it for long. Luckily, many saws are quite accurate, though this is not always the case. There are quite a few saws out there that are hardly accurate at all. This is really a matter of quality. The more high-quality a saw is, the more accurate it is likely to be. If a saw is made with plastic parts and seems very flimsy, it is likely going to be very inaccurate as well.
The most sure-fire way to ensuring that a saw you pick is accurate is to check our reviews. We carefully tested each saw for accuracy so you will know exactly what you're getting.
— Some saws come with lasers that help make more precise cuts. Often, these lasers are hit and miss. Many saws don't have them at all. Those that do don't always work correctly. Many laser guides aren't as accurate as they need to be, which makes them practically useless.
We do find laser guides helpful, but not a must-have. There are many aftermarket laser guides you can buy if you really need one. Most of the ones that come with saws aren't worth much, so we generally recommend buying your own.
Frequently Asked Questions
---
What is the cutting capacity of a 10-inch miter saw?
A 10-inch miter saw can cut right across a 5 ½-inch wide board. However, the more angled the cut you make, the less the saw will cut. If you cut a 45-degree angle, the same saw can only cut through a two-by-four. For bigger cuts, you will have to purchase a saw with a bigger blade.
Can I use a 12-inch blade on a 10-inch saw?
No. A miter saw can only fit the size blade it is designed to hold.
---
Conclusion
There are many different models out there, which is both a good thing and a bad thing. On one hand, you have plenty of options. But, on the other hand, it is very difficult to distinguish the good saws from the bad. Hopefully, our complete guide to 10-inch miter saws helped you break through the clutter and choose the best one for your situation and budget.
We recommend the Bosch 10-Inch as the best saw overall. It has a strong, durable motor and makes predictably accurate cuts. It does everything a miter saw should without fuss. If you want something on the cheaper side, the Hitachi C10FCG is a perfect choice. It is just as good as many of the more expensive models but at a fraction of the cost.
Evolution's RAGE3 works best after changing the miter blades and as the one which it comes with is not able to cut nicely.